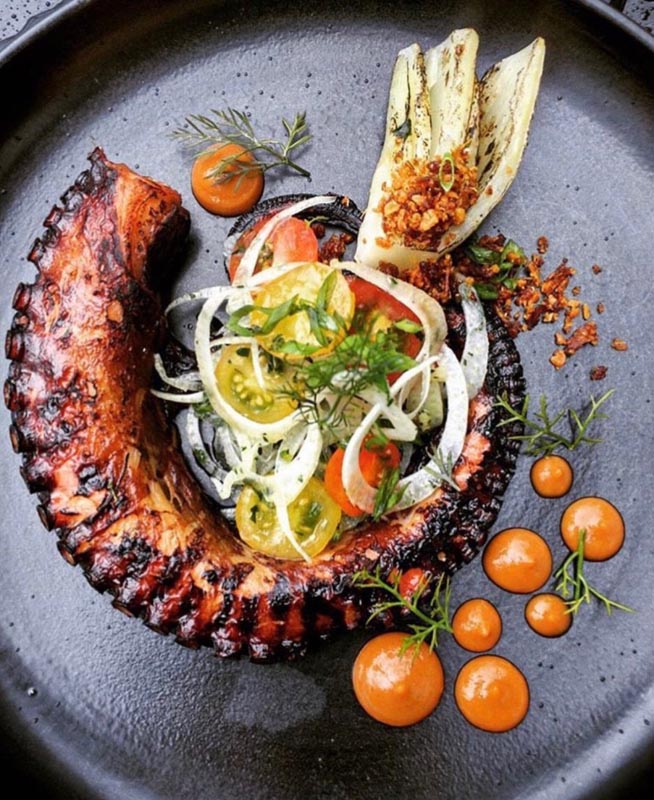 A gourmand's delight, Sangsaka's creativity transforms traditional Indonesian flavours into an array of contemporary tantalising temptations.
---
Sangsaka's welcoming ambience, subtle lighting and artful design are deceptively low key, deservedly leaving centre stage to its food and drinks.
A well-stocked bar with high-end spirits and good quality wines is right by the door inviting diners to sit a while, relax and imbibe before dinner. The select choice of signature cocktails takes full advantage of local ingredients with refreshing libations such as Lemongrass Sorbet Margarita with kaffir lime and Passionfruit Mojito with torch ginger, as well as Ice Tea with calamansi, longan, passionfruit and lemon.
The combination of padded banquet seating, dark wood chairs and tables, sparkling wine glasses and rustic stoneware is eclectic, giving an almost Parisian feel to the intimate 40-seat restaurant. A small open countertop kitchen showcases the kitchen team, led by Executive Chef Kieran Morland, busy plying its craft to create unique dishes that reflect the distinct flavours of Indonesia's many islands, while ensuring they are approachable for those yet to experience such fare.

Sangsaka has recently acquired the considerable skills and experience of one of Indonesia's most talented local chefs, Maxie Millian. Chef Maxie works with Kieran at both Sangsaka and Merah Putih, where their unique styles combine beautifully to create stylish and innovative dishes.
The pair constantly explores the extensive flavours of regional Indonesian cuisine and makes use of a wide range of woods and charcoal that mimic the open fires often used for Indonesian home cooking, creating a sensational range of contemporary Indonesian specialities that change weekly depending on season and availability.
Diners can choose from the à la carte small and large plates, or take the tasting menu with nine dishes over five courses and let the kitchen team dazzle with their inventiveness. Service is attentive and friendly and the team is happy to explain what you're eating, although the menu also clearly identifies the ingredients in each dish.
Dinner opens with three canapés, such as tempeh crisps with piles of eggplant confit, rendang croquettes and minced octopus on sweet potato chips. From the small plates, we love the tender roast quail with tomato and a creamy paniki sauce served on a rice pancake very much like a soft tortilla. Interestingly, this dish was inspired by a North Sulawesi dish made using bat meat.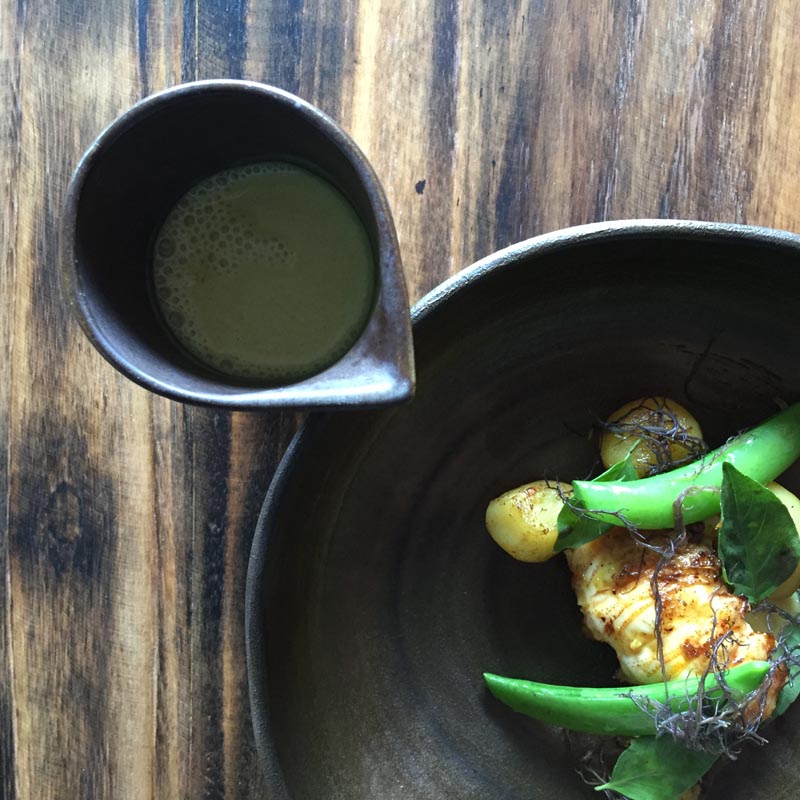 The salmon with lemongrass panna cotta and sour belimbing is topped with crunchy black squid ink kremes and has a fabulous mix of textures, colours and flavours. The small portions allow guests to try a wide range of choices and really appreciate the vision and originality of the chefs.
From the large plate choices, the rawon with beef cheek and Angus beef served in a thick, slightly sweet kluwek sauce is an excellent choice served with fragrant rice and chilli condiments, accompanied by the mixed organic vegetables with smoked purple potato.
For diners unfamiliar with Indonesia's rich culinary diversity, Sangsaka offers an exotic yet approachable introduction. While for those who love Indonesian food, it offers a fascinating and delicious experience that keeps guests coming back for more.
---
Sangsaka
Jalan Pangkung Sari 100X, Petitenget, Kerobokan, Bali 80361, Indonesia
T: (+62) 81236959895