Relive the grandeur of yesteryear with Belmond's Venice Simplon-Orient-Express new suites.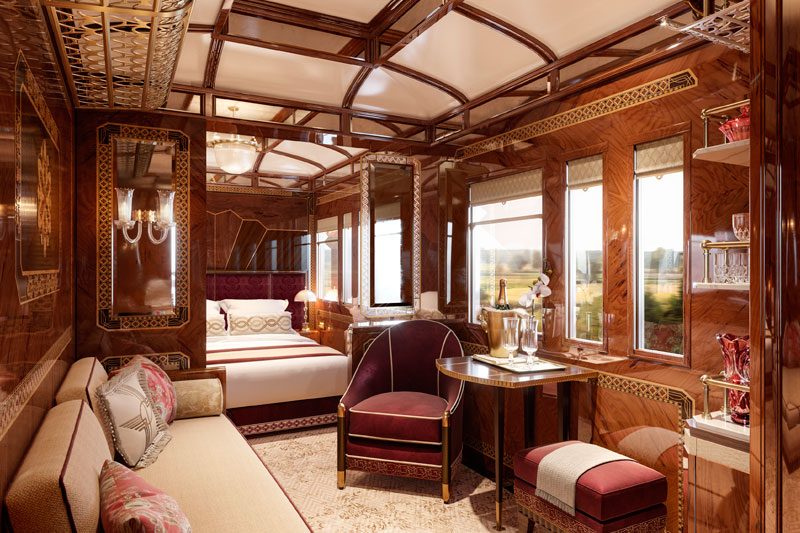 The Venice Simplon-Orient-Express train is a work of art in itself and a true art-deco icon. Exuding romance and passions for adventure, the luxury train will have three new Grand Suites added to its long carriages. The new suites, Vienna, Prague and Budapest, are named after iconic European cities that the train visits every year. With this addition, a total of six suites are available to take passengers on a glamorous trip inspired by the golden era of rail travel.
Authenticity is everything on this award-winning luxury train, which comprises the original sleeping cars of the 1920s and 30s, along with three dining cars, an elegant bar with baby grand piano and a boutique.
Designed by Wimberly Interiors, the interiors mimic the history of each city. The baroque and gothic architecture of Prague, along with the city's theatrical feel, will be encapsulated in the Prague Grand Suite with a gold and maroon colour palette. While the Vienna Grand Suite with see rich hues of gold and emerald green reflect the city's long history and grand palaces. The Budapest Grand Suite aims to capture the essence of both sides of the Danube river, taking inspiration from both the gothic and ottoman architecture.

Besides being a feast for the eyes, passengers will be deliciously indulged with dining offerings specially prepared by Executive Chef Christian Bodiguel, who creates each dish inspired by the train's destinations.
The Venice Simplon-Orient-Express travels throughout Europe from March to November and travels to Istanbul once a year.
---