Combine the convenience and comfort of Turkish Airlines with Austria for a holiday that gives you new adventures and experiences that linger.
---
It's the classic conundrum when planning your holiday – winter or summer, snow or sunshine, glaciers or beaches; how can you make the most of your time? There is, surprisingly, an easy answer to this question. Fly Turkish Airlines from Jakarta to Istanbul, then on to Salzburg for a holiday that gives you everything you could possibly desire.
Voted Europe's Best Airline by Skytrax in 2016 for the sixth consecutive year, Turkish Airlines has direct flights from Jakarta to Istanbul, which is a fascinating destination in its own right as well as a convenient hub to 275 other destinations.

On your return journey through Istanbul Atatürk Airport, be sure to leave time to explore the award-winning, globally renowned Turkish Airlines departure lounge. You can while away hours in complete comfort, play pool, improve your golf, play the piano, watch a film and the kids can enjoy the great Children's Zone.
Zell am See-Kaprun

Save Salzburg for the journey back and take an easy one-hour drive south to Zell am See-Kaprun, a unique year-round glacier, mountain, lake destination. Where else could you can be standing in snow on top of a glacier in the morning and lounging by a lake in the sun in the afternoon? This natural paradise is ideal for active holidaymakers and families alike, with a diverse range of Alpine experiences.
Perhaps the most unusual trip in Zell am See-Kaprun is to Werfen, where the largest ice cave in the world can be found. Marvel at the crystalline beauty of the natural ice formations, as well as the shimmering, eerily creaking glacier inside this massive cave that extends 42km deep into the mountain. Access this stunning natural wonder from the steepest gondola lift in Austria.

Another exhilarating outdoor adventure is the Kitzsteinhorn glacier tour where you can explore glacial ice, golden eagles and end, after three cable trips of up to 3,000m, at the "Top of Salzburg" panoramic platform. Skiers may also want to take advantage of this idyllic glacial ski venue.
Meanwhile, lakeside, there are festivals throughout the summer months, magical lake shows incorporating water, lights, music and lasers, fireworks over the lake, boat trips, shopping and all kinds of traditional and modern cuisines to try, as well as award-winning restaurants. Lake Zell itself has water so pure that you can drink it.

From hiking and mountaineering, to trail running and cycling, tobogganing to paragliding, kayaking and sailing to 36-hole golf, skiing and snowboarding to the kids' adventure world and ski kindergarten; there are innumerable things to do and explore in Zell am See-Kaprun. And if you need a business-related excuse to visit, the multi-function Ferry Porsche Congress Centre is ideal for conferences for up to 1,200 people.
Salzburg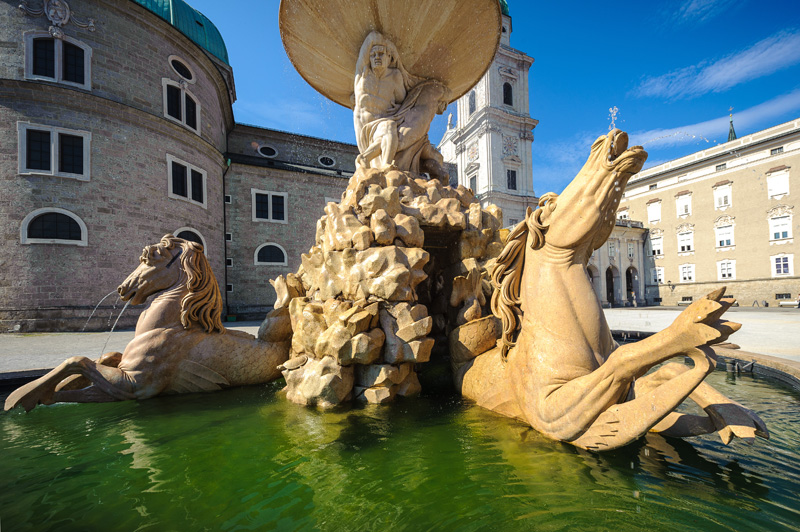 Fully relaxed, head north for a few days to Mozart's birthplace, the city of Salzburg, a veritable trove of historical and cultural attractions. If you enjoy cycling, then take advantage of the miles of paved cycle paths around the city and along the picturesque river.
One unmissable attraction is the clifftop Hohensalzburg Fortress. Built in 1077, it has stunning views over the Old Town and the Alps and visitors can see how royalty lived in the royal apartments and state rooms.

Another awe-inspiring location is St. Peter's Abbey, founded in 696. The Romanesque church in the abbey grounds was built from 1130 onwards and has a dramatic, classic interior. Within the abbey grounds is Stiftskeller St. Peter, the oldest restaurant in Europe, where dinner concerts whisk you back to Mozart's time. The menu is based on historical recipes and Mozart's music is played by renowned musicians wearing period costumes and playing period instruments.
Still on a historical note, Getreidgasse is a fabulous medieval shopping street that sticks to the spirit of the olden days. Watch a blacksmith ply his trade, drink some schnapps and enjoy the fascinating juxtaposition of modern and olden times.

For film buffs, Salzburg is, of course, associated with the Sound of Music and there are walking tours that include places like the famed gazebo, the trick fountains, the terrace where Do Re Mi began and many other iconic points of interest.
Be sure to visit Residenz Square, the city's buzzing hub, to see the towering Horse Fountain, take in a visit to one of the beer halls, like that at Stiegl brewery, which opened in 1492 and don't miss Mirabell Palace and its stunning gardens.
There are numerous festivals in Salzburg, so be sure to check what's on when you plan your trip.

---
Zell am See-Kaprun Tourismus
T: (+43) 6542770
E: welcome@zellamsee-kaprun.com
Salzburg City Tourism
T: (+43) 662889870