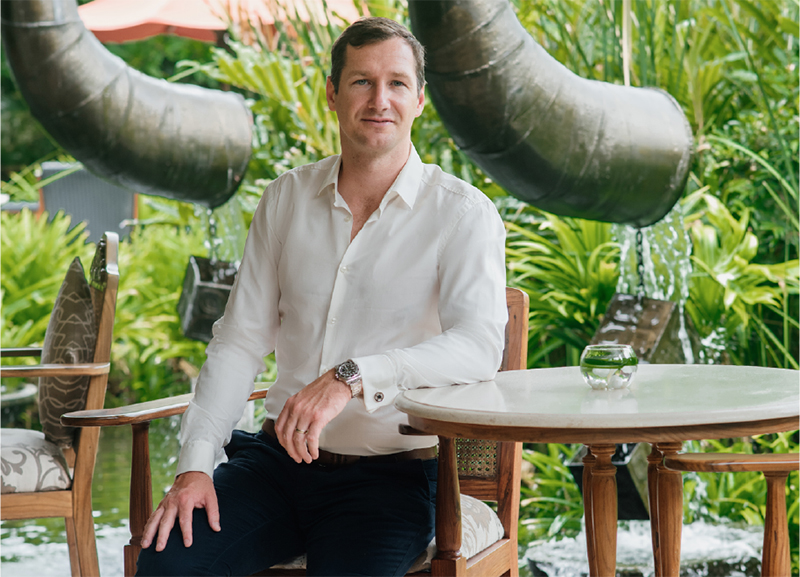 A native of Holland, this 13-year Marriott veteran has his eyes on the future while always remembering the pathway he has taken to reach his role as General Manager. From his first job he was hooked and knew that he had a passion for the hospitality industry, it was in his blood. Before arriving in Bali, his travels and studies exposed him to multiple countries and cultures.
E: What attracted you to accept your position with The St. Regis Bali Resort? 
A: Many things about Bali attracted me to the Island of the Gods. Of course, the opportunity to manage a property that consistently ranks among the top three properties for St. Regis globally was part of it. But more so than that, Bali itself is a phenomenal destination. The optimism of the people and the culture is amazing. If you run a resort, there is no better destination.
E: What or who motivated you to pursue a career in the hospitality industry?
A: My first job inspired me to pursue a position in hospitality. As a child, I loved helping my mum in the kitchen preparing holiday meals. At the age of 15, I took a position in the restaurant of a small four-room hotel to earn pocket money. I worked in the kitchen as a helper and I loved it more than studying. It was during those years, I decided to pursue a career in the kitchen.

E: What was your first role in the hospitality industry?
A: My first formal role in the industry was working as a full-time chef. When I was 17, I became a line chef in a 200-room hotel. During those years I realized I enjoyed the management side of the business more than just being creative in the kitchen. I also understood that if I wanted to be successful in hotel management, I had to go back to school and pick up my studies again.
E: Where did you study hospitality, and where did you begin your post-graduate work? 
A: Holland, Cyprus, Australia and China. I began my formal studies in Holland. From there I took up a pre-internship in Cyprus before moving to Australia. I ultimately earned my bachelor's degree in hospitality management from the International Hotel of College Management (IHCM) in Adelaide. As part of my studies, I was required to undertake a formal internship which brought me to Beijing where I began my career with Marriott in 2008. Beijing is also where I met my beautiful wife. 
E: How do you reward someone for a job well done?
A: I think recognition and a genuine thank you goes a long way, especially toward other team members. If somebody consistently does an outstanding job, and they are highly motivated, what we do is develop them. I develop those individuals to become stronger, multi-skilled and advanced in their careers. I think that is the ultimate reward for someone who consistently does a good job. And within Marriott, it's an ideal place to grow. 
E: Do you ever completely switch off? If so, what do you do to relax?
A: I don't believe it is possible to completely switch off. However, when I do have the opportunity to relax, it is during international trips. Those trips usually include returning home to Holland. I value time with my immediate and extended family. We gather around the table for meals. I exercise with my father on runs through the forest. Reconnecting with them is rewarding and rejuvenating. Simply spending time in the kitchen with mum and reuniting with my siblings and friends is therapeutic. It tops my list of relaxation activities.
E: In one or two words how would you describe your management style.
A: Empowerment and delegation. I believe in empowering people. I don't micromanage but I do want to be involved. I rely on the strengths of my teams to educate me on developments within the industry that are evolving in the roles they play. I like to continuously be learning.
E: What has been the most memorable compliment you have received from a guest?
A: I recently received a beautiful email from a woman who brought her family to Bali for their first holiday since the start of the pandemic. In that email she shared how my team made a mark on her stay. I attribute her memorable experience to how my team's impact resulted in a favourable remembrance of her visit. That is where you can see the warm genuine hospitality of the Balinese culture and people shine through.
E: What suggestions would you make to an individual who aspires to pursue a career within the hospitality industry?
A: First, you need to know why you want to go into this industry. To be successful you need to work hard and be persistent. You also need to be transparent about the demands of your position with family and friends. Their support is crucial as you may not always be as available. Ultimately, it is about passion, if you love what you are doing, you will always be successful. 
The St. Regis Bali Resort