Celebrate Indonesia's 74th Independence Day in style with these great dining and hotel stay promos around Bali and Jakarta.
Sofitel Bali Nusa Dua Beach Resort

Set on a beautiful stretch of Nusa Dua beach, Sofitel Bali Nusa Dua Beach Resort is home to some of the greatest dining venues on the island. In celebrating Indonesia's national day, the resort will take you on a journey through the flavours of Indonesia with its Indonesian Food Festival. The resort's all-day dining venue, Kwee Zeen, will showcase Indonesia's best cuisines from 14 to 17 August. Each day, the restaurant will highlight different regions of Indonesia with its food offerings. Enjoy a selection of Javanese cuisine on 14 August, followed by Sumatran, Balinese and finally Jakartan. For reservations, email h9078-fb11@sofitel.com or call (+62) 3618492888.
Four Seasons Hotel Jakarta

Take a culinary journey through Indonesian cuisine with Four Seasons Hotel Jakarta. In honour of the national celebration, the hotel presents a series of exclusive delicacies prepared by the hotel's talented team. From 12 to 25 August, enjoy a street food fair at Palm Court, fresh Indonesian cigars at Nautilus Bar, exquisite Indonesian cake at La Patisserie and Indonesian-inspired dishes at Alto with Taste of Noesantara. For more information, call (+62) 2122771888.
The Ritz-Carlton, Bali

Set on a cliff top that overlooks the beauty of the Indian Ocean, Bejana Restaurant at The Ritz-Carlton, Bali is a dining venue solely dedicated to Indonesian cuisine. On 17 August, diners will be taken on a delicious special journey with Indonesian Rijsttafel. Selecting the best delicacies from every corner of Indonesia, the themed culinary trip will feature nine finely crafted dishes, including gado gado, soto pesmol, ikan woku, ikan kakap bakar a la Jimbaran, sambal udang and more. For more information and reservations, email rc.dpssw.restaurant.reservation@ritzcarlton.com.
The hottest beach club on Pandawa beach, Roosterfish is hosting a great day out for the whole family. On 17 August, guests are invited to relax and enjoy the many activities for kids and the adults. With its Independence Day Pool Party, dipping your toes into the pool or strolling along the beach is just too hard to resist. Not only giving the freedom to choose your relaxing moments, the beach club is ready to entertain you with live acoustic music, a percussion performance, magic show and live DJ as the day turns into night. Don't miss out on the festivities and reserve your spot now by email to info@roosterfishbeachclub.com or phone (+62) 3612003588.
Anantara Seminyak Bali Resort

This Saturday, Anantara Seminyak Bali Resort is offering a festivity for all the senses. Enjoy a 45 percent saving on both of the resort's in-house dining venues, S.O.S Restaurant and MoonLite Kitchen and Bar. With this promotion, guests are able to view Bali's iconic sunset from the beachfront bar and enjoy a tantalising cocktail from its rooftop bar. For some pampering, Spa at Anantara has a special offer with 45 percent saving on the 90-minute Mauwut Massage. Spa reservations are highly recommended and are available until 31 August. For more information, call (+62) 361737773 or email seminyak@anantara.com.
Hilton Garden Inn Bali Ngurah Rai Airport 

Conveniently located 500 metres from Ngurah Rai International Airport, while offering a tropical sanctuary, Hilton Garden Inn serves as the right spot to unwind. Offering its guests comfort with the latest amenities and facilities, the hotel is also home to a great dining venue. Welcoming Indonesia's Independence Day, all-day restaurant The Garden Grille will showcase the authentic taste of local favourites from 12 to 17 August. With its Gebyar Merdeka promotion, staying and non-staying guests get to indulge in delectable dishes that include Tumpeng Merdeka – a traditional cone of yellow rice. The bar is also preparing a refreshing drink that mimics the colours of the Indonesian flag with Sang Saka mocktail. For more information on this great promotion, call (+62) 3618976100 or email reservation.hgibali@hilton.com.
Pullman Jakarta Indonesia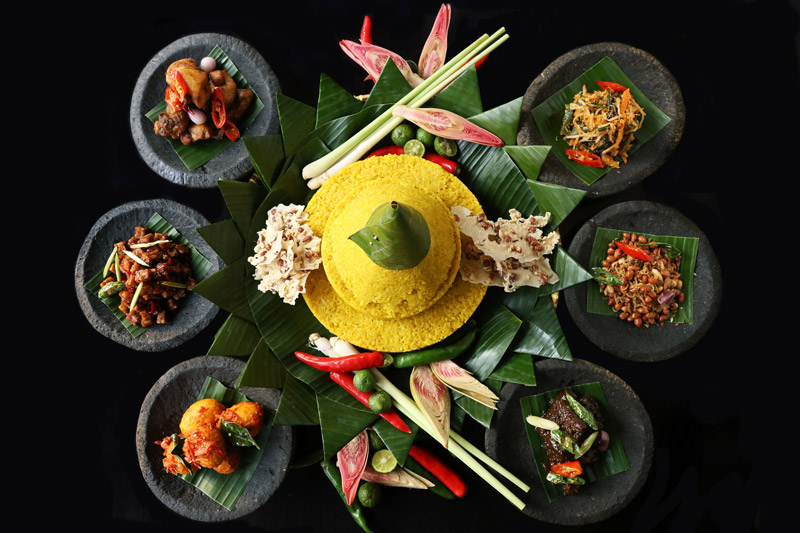 Sitting at the centre of Jakarta, Pullman Jakarta Indonesia is a popular venue. Closely located to the Sudirman Central Business District (SCBD), the hotel is also within walking distance of the Indonesia National Monument. The hotel is inviting everyone to indulge in a scrumptious buffet offering with its Merdeka Brunch. On 17 and 18 August, the hotel's main dining venue will feature a wide selection of Indonesia's favourites, including local street foods. Creating an elevated ambience for its diners during the special themed brunch, the hotel will also showcase live traditional music entertainment. For reservations and more information, call (+62) 213906444.
The ANVAYA Beach Resort Bali

Situated on Bali's famed Kuta Beach, The ANVAYA Beach Resort Bali is the ultimate island getaway for family and leisure travellers alike. Offering the latest in luxury, the resort is fully fitted with world-class facilities and hospitality. To celebrate Indonesia's Independence Day this year, the mega-resort is planning a full day of fun for all ages. On 17 August, from 3pm to 7pm, guests will be able to explore local products and handicrafts from 15 booths in the resort, as well as enjoy fun traditional activities for all. Take part in the kerupuk eating competition, bottle fishing, sack race and more. The kitchen team is also preparing something special to showcase the finest street food. Indulge in local favourites like bakso, mie ayam, sate plecing and gado gado. For more information, email info@theanvayabali.com or call (+62) 3612090477.
SugarSand Seminyak Bali

The ultimate beachside bar and restaurant in Seminyak, SugarSand offers a place to relax with poolside daybeds and a rooftop lounge to bask in the sun's rays while sipping on the freshest cocktails. This Saturday, the venue is also taking part in celebrating Indonesia's Independence Day with The Hydrant. The pioneer of the rockabilly scene in the country, the Bali-based band will showcase their skills in front of loyal SugarSand customers. The party will start at 2pm with a DJ performance as the opening act. Guests can enjoy the performance for free, however, for anyone looking to book a table for this party, SugarSand is offering table packages starting from IDR2,000,000 net including one bottle of liquor and snacks. For reservations, please contact (+62) 3612099999 or email sugarsand.bali@ihg.com.
Hard Rock Hotel Bali

Located in the popular surf destination of Kuta, the iconic hotel is where great food and live music take centre stage. Filled with music memorabilia from famed musicians, the hotel celebrates life with an edge and is the ultimate place for legendary experiences, from good meals, to quality live music and soaking in the history of Bali. In celebration of Independence Day, the team behind the bar at Centerstage has crafted two new drinks. With the theme of red and white, the cocktails are priced at IDR74,000++ while the Nusantara mocktail is priced at IDR45,000++. To find out more about this great promotion, visit www.hardrockcafe.com.
Created in Singapore by chef Nam, NamNam is a casual dining venue that offers the best selection of Vietnamese dishes. From pho to banh mi, each dish is created using old-world recipes with a modern twist and helps transport diners to the vibrant streets of Vietnam. With restaurants in Bali and Jakarta, the fast-noodle place is celebrating Independence Day with a special Merdeka promotion where guests are treated to a combo meal for just IDR74,000++ with braised chicken noodles and lemongrass ginger ice tea. Meanwhile at BAE by Socieaty, where wine and bites go hand in hand, enjoy a special discount of 17 percent on food only throughout 17 August.
The Sultan Hotel & Residence Jakarta

In the spirit of celebrating national day, The Sultan Hotel & Residence Jakarta is hosting a special programme with delicious food. The culinary team at Lagoon Café will prepare new dishes that explore the culinary world of Indonesia, including braised yellow noodles with seafood and vegetables, wok fried rice with seafood and red chilli and beef soup (braised rawon oxtail). Available for lunch and dinner, these dishes will be priced at IDR81,945 net per portion. In addition, the hotel is also offering a special room package to celebrate its 13th anniversary. Book a Grand Deluxe room for only IDR1,313,000 net per night. For booking and more information, call (+62) 215703600 or visit www.sultanjakarta.com.