Discover Thailand's tropical paradise of Koh Samui.
---
Koh Samui (or Samui Island), is often dubbed Thailand's tropical treasure and rightly regarded as one of the world's best holiday destinations. How can it not be? The largest island in the Chumphon Archipelago in Thailand, Samui boasts the dreamiest beaches in the world, with white sand, crystal blue water and rows and rows of coconut trees. Not only that, the island is also world-famed for its vibrant nightlife.
STAY

When it comes to accommodation in Samui, you can rest assured there is a wide selection of five-star resorts resembling a paradise on earth with swaying coconut trees and pristine beaches. Take Amari Koh Samui, for a great example. The resort brings authentic Thai design to a new level with a contemporary twist in the interior decor, and opens its doors to accommodate different kinds of travellers. Honeymooners and lovebirds will love Amari's Beach Wing, where privacy is paramount. Meanwhile, the duplex family rooms provide a home away from home for those travelling with kids. Ideally nestled on the Chaweng Beach coastline, guests at Amari won't be able to resist getting their toes in the sand and losing track of time. Its location in the Chaweng area also makes it easy to reach the famed shopping street and its abundance of Asian food.
For something more stylishly sultry, Nikki Beach Resort is the ultimate lifestyle destination. The sexy household brand of beach clubs is taking it to another level with the Nikki Beach Resort Koh Samui, where privacy, chic design, haute cuisine, and Nikki Beach's signature music and entertainment seamlessly blend and create a holiday experience fit for the world's top jetsetters. The modern white accent and sleek natural elements of the resort match the idyllic surroundings of white sand and green foliage, making it a veritable Eden to get away from the world. Factor in Nikki Beach' Sunday brunch with live music and theme party and it's no surprise that the brand is popular for its fun in the sun all over the world.
SEE

Whenever you visit Samui, make sure you don't miss a trip to the Ang Thong National Marine Park. The park is basically an archipelago comprising around 42 islands northwest of Samui. Most of the islands are in close vicinity to each other, resulting in an amazing sailing destination with a mesmerising vista. The natural landscape in the marine park is breathtaking, with limestone islands and karst topography theatrically rising from the ocean, and caves and hidden lagoons waiting to be discovered. Needless to say, the area is a heaven-sent destination for snorkelling, with vibrant coral gardens sprucing up the shallow depths.
The Magic Garden of Buddha – also known as the Secret Garden – is a sight to behold in terms of cultural and natural edification. The garden dates back to 1976, when a 77-year-old Samui fruit farmer, Nim Thongsuk, built the estate filled with countless Buddha statues in different poses and with different meanings among the lush foliage, little stream and miniature waterfalls. Durian farms, bamboo trees and coconut plantations surround the Secret Garden, completing the amazing vantage point overlooking Samui and the ocean beyond.
Not to be missed is the Big Buddha sculpture that serves as the iconic landmark of the area. In fact, the golden sculpture is so big, at 12 metres tall, it will be the first thing you notice as you approach Samui from the air. The Buddha, which was built in 1972, makes an ideal spot to catch the sunset, as the mesmerising hue will spark up the golden statue.
Last but not least, for a cheeky excursion, the Hin Ta Hin Yai rock formation comprising one shaped like male genitalia would definitely make a great story.
EAT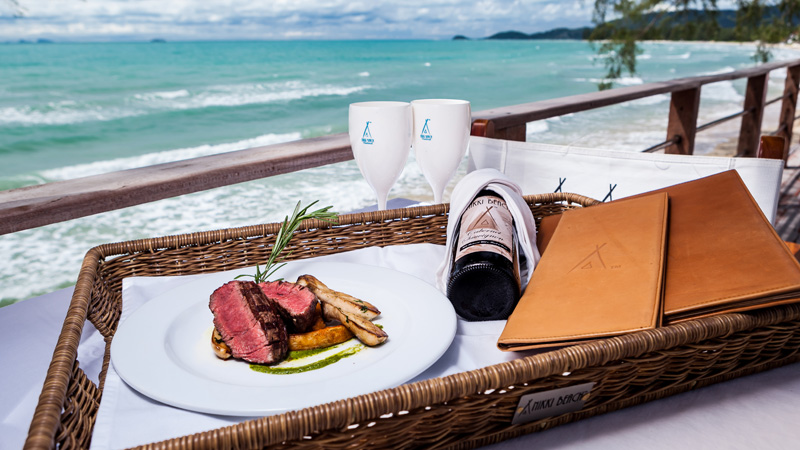 Samui has an extensive array of cuisines to choose from, from five-star to street food, each offers rich, flavourful tastes that will tickle your palate's fancy. That being said, we would like to suggest you try one (or more) of the local restaurants to get the unmistakeably authentic Thai flavour. One of the favourite dining joints in the area is Krua Bang Po by Bang Po Beach. It has a laidback atmosphere, a secluded beach view and more importantly, delicious dishes to savour. You can't go wrong with Krua Bang Po's fresh seafood selection. Try the plaa jalamet, fried fish in garlic sauce with succulent meat that melts in your mouth. Other highlights include steamed crabs with traditional nam jim dipping sauce, prawns in tamarind sauce, and of course, tom yam goong and som tam papaya salad.
---
Tourism Authority of Thailand, Jakarta Office
The Plaza Office Tower, 38th Floor
Jalan M.H. Thamrin Kav. 28-30
Jakarta 10350, Indonesia
T: (+62) 2129922353