Football protégé turned hotelier, Titus Rosier is the face behind Ubud's most inspiring new wellness resort. Hailing from Maastricht, Holland, the down-to-earth general manager talks about what got him hooked on hospitality, the hidden-gem appeal of rural Bali, and why The Westin's wellness-inspired approach to the industry is the perfect fit for his own active lifestyle.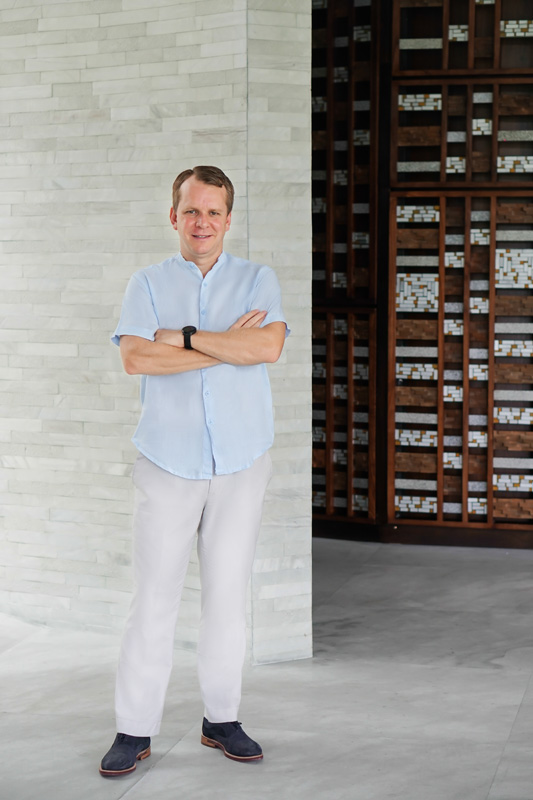 Q: Congratulations on the opening of The Westin Resort & Spa Ubud, Bali. Can you share some of the features that make the hotel special?
A: One of the most unique features is the design. The hotel was built around the biophilia principle to create an environment that's very much in touch with nature. When you enter the property, you'll immediately notice the forest views and fresh air – it's intended to be a very calming experience. We built around the feel-well experience with the spa, which has a strong focus on emotional wellbeing. The flowers that surround the spa gazebos are specially selected so that the colours and fragrances change throughout the day. During morning yoga, the scenery is yellow and purple. In the evening, the fragrance of the jasmines comes out. Similarly, our restaurants follow an eat-well philosophy, showcasing healthy dishes, slow cooking and ancient ingredients.
Q: You've worked in hotels in Europe, the Middle East and Asia. What are Bali's strong points in terms of hospitality?
A: It's just such an incredibly beautiful place that has so many hidden spots to discover. You get lost on the streets and, before you know it, you're in paradise! The other big difference is the people. When I talk to guests, the number one thing they comment on is the warmth of the locals.
Q: Did you always aspire towards a career in hospitality?
A: No. I wanted to be a professional football player! I combined my education with playing football and was allowed to skip classes for training with one rule: I wasn't allowed to fail anything. I've never failed a class since!
Q: So what led you into the industry?
A: My father designed a few hotels, so he exposed me to the architectural side of things. And my mother was a very good cook. Every year at Christmas, I helped her to prepare dinner. It was her who told me to go into hospitality. She gave me a book called Hotel on the Roof of the World, about a guy who moves to Tibet to work at a hotel there. As I read about the experience, I realised I wanted the same.

Q: And what, specifically, appealed to you about the job?
A: The challenges and different situations that get thrown into your life every day!
Q: Sustainability is becoming more important for modern travellers. How does the hotel address this?
A: As a brand, we're all about wellness, so it's natural that we take it seriously and follow the trend towards more sustainable practices. For example, we're working with a company called Refill my Bottle to create a plastic-bottle-free environment. There's now a water station in the hotel to encourage guests to re-use their bottles. We're also working with a company that collects plastic for recycling, with the profits going to the local community. Our meeting rooms are proudly clutter-free with no paper or pens on the tables – these items are available if you want to use them, but we're trying to minimise waste. We have untouched food from our buffets collected and taken to deprived areas, and urge our business clients to donate any leftover meeting food to this cause, too.
Q: When you're not working, what do you get up to?
A: When I played football, I trained every day. But when I started to work internationally, I stopped and it changed my life. One day, I realised I weighed 94 kilograms and was fed up, so I signed up for a 10k run. I remember getting passed by an old lady! It only spurred me on to sign up for a triathlon. I kept going until eventually I signed up for an ironman competition. So that's how I keep myself active; every few months, I do a triathlon or a marathon.
---
The Westin Resort & Spa Ubud, Bali
Jalan Lod Tunduh
Singakerta, Ubud
Bali 80571, Indonesia
T: (+62) 3613018989
---
Asia Dreams May – July 2020