• Beneath the blue of the Great Barrier Reef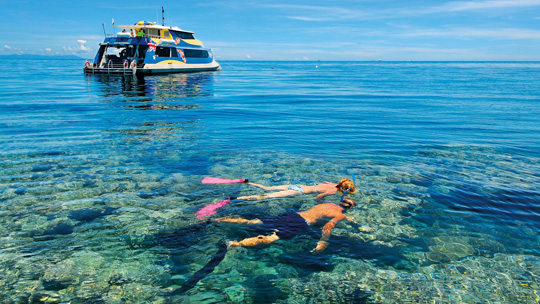 Truly, madly, deeply – an underwater proposal beneath the pristine, aquamarine waters of the Great Barrier Reef might just be the most adventurous yet utterly romantic moment of your entire life. Alive with the buzz of colourful, vibrant coral swaying with the gentle motion of the Pacific Ocean, the Great Barrier Reef is one of the world's most glorious natural wonders, and it's easy to see why. So vast in size it is visible from space, this panoramic paradise has plenty of picture-perfect locations to woo your loved one, like the azure waters surrounding Hamilton Island – one of 74 pristine, tropical islands in the heart of the Whitsundays. With picturesque views, romantic retreats ashore offering Champagne picnics and even breathtaking helicopter rides, your proposal itinerary is right at your sandy, sun-kissed fingertips.
• Famous vineyards of Margaret River 

When you think of fine Australian wines, most likely the world-famous region of Margaret River springs to mind. Yet the vast and rolling landscapes of this awe-inspiring land aren't only ideal for growing the perfect grapes, but also for sowing a lifetime of happiness. For a sophisticated and breathtakingly beautiful proposal, drop to one knee among the enchanting rows of vines, complete with a glittering lake in the background, a bottle of bubbly in hand and a quaint picnic rug and basket to lay back with until sunset. Finish the day with a night in a five-star estate, where gourmet cuisine and plenty of wine tastings await.
• At the peak of the Sydney Harbour Bridge

It's said that more than 4,000 proposals have taken place on its beams, and 25 weddings have been held at its summit, making the Sydney Harbour Bridge one of the world's most popular places to propose – and rightly so. With front-row views over Australia's most iconic landmarks, the Sydney Harbour Bridge is the heart and soul of this endearing country. With plenty of creative ways to pop the question – from having a fly-by "Will you marry me?" sign or a ring and a rose waiting at the peak – no doubt you and your loved one will feel truly on top of the world after the climb of your life. What's more, a romantic harbour cruise or a night at the Opera House awaits below, once she's said "yes".
• With Ayers Rock as a backdrop 

Few locations on earth are as otherworldly as the "Red Centre" of Australia, Uluru – most commonly known as Ayers Rock. Totally isolated and said to be over 550 million years old, the wonder and magic of Ayers Rock is sure to make your loved one go weak at the knees. With its majestic red glow behind you, and a romantic table for two beautifully set up in what feels like the middle of nowhere, you'll feel like the only two people on earth as you pull out the diamond ring. Celebrate with Champagne back at your own romantic lodge, or treat her to a breathtaking scenic plane ride over the iconic rock itself.