Brendon Meppem
Area General Manager Indonesia InterContinental Hotels Group, and General Manager Holiday Inn & Suites Jakarta Gajah Mada
---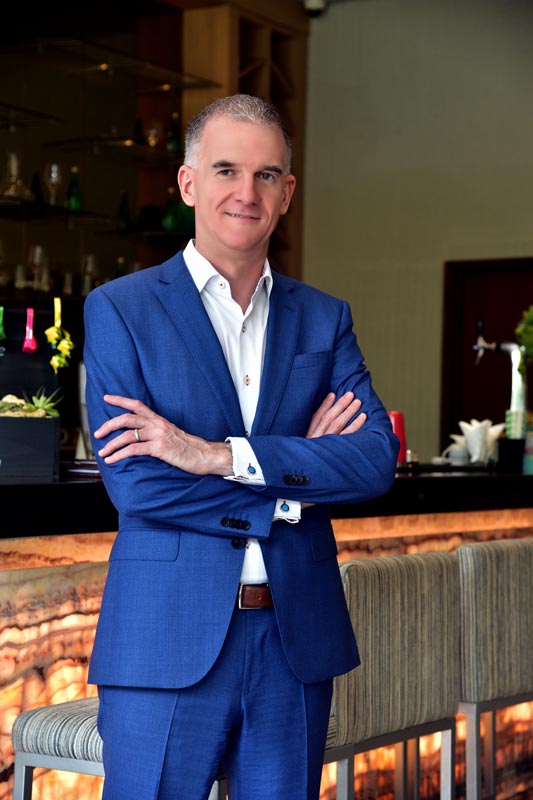 ---
Q: How did you get into the hospitality industry, specifically working with IHG?
A: I started in the industry when I was in high school. My first job was washing dishes in the kitchen, which led to work in food and beverage in Australia and ultimately becoming a general manager. I moved to Rotorua, New Zealand and worked there before moving to Auckland, when I joined IHG as a general manager. I was given the opportunity to lead the pre-opening and opening of Crowne Plaza Hotel Adelaide, so I moved back to Australia for three years. Then I moved to Malaysia to Holiday Inn Kuala Lumpur Glenmarie and finally moved to Jakarta in 2015. 
Q: Based on your extensive experience as a general manager in Australia, New Zealand, Malaysia and Indonesia, what factors make Indonesia attractive for major hospitality industry operators?
A: Indonesia has great attractions for tourists with beautiful countryside, interesting cultures, historical remnants, beaches and nightlife. Bali is Indonesia's most important destination for leisure travellers, but there are many other areas in Indonesia that people are now exploring. For IHG, at the moment we only have hotels in Java and Bali, but we are bringing in new brands, Regent and Kimpton. They are in the pre-opening stage now, with a Regent in Jakarta and a Kimpton in Nusa Dua, Bali.
Q: When you first arrived, what surprised you most about Indonesia?
A: I've got to say the traffic. I'd heard it was bad in Jakarta but I didn't understand how bad until one day it took me two hours to go 2.5 kilometres. I was also very surprised by the coffee culture in Jakarta. Small coffee shops can serve good coffee from around Indonesia and around the world. It's interesting to learn about coffee and have the opportunity to taste lots of Indonesian coffees from different regions.

Q: Would you share some memorable experiences from your career?
A: I think I've been very fortunate with IHG. I've worked for the company for 12 years and have been responsible for leading multiple hotel openings and refurbishment projects. I've met a lot of great people and worked with a lot of great teams, so the opportunity itself has been quite fantastic.
Q: What do you think makes a good general manager?
A: I think you have to have a lot of passion for what I do. Hotel work hours are 24 hours a day seven days a week. You also have to be a good leader, someone who inspires people to do great things and to help them develop their careers.
Q: Who has been your inspiration in the industry?
A: To be honest there have been a few people at different times who helped me with mentoring or coaching. The common thing with all of them is that they gave me an opportunity, or took a risk on me in giving me a new job or a new role. I guess that has inspired me to make sure that I do a great job.
Q: How does your hotel embrace the digital world?
A: We are using some of the latest technology in IHG, IHG Connect, which allows guests to access hotel Wi-Fi at all IHG Connect-enabled hotels with one click. They will automatically be connected for all future visits.
Q: Looking at your bucket list, what is the one thing that you would really like to cross off by the end of 2019?
A: I would like to travel and explore more islands in Indonesia, enjoy good snorkelling and to visit a coffee plantation.
Q: Do you have any advice for anyone looking to break into the industry?
A: I would say just do it. It's a fantastic industry that has a lot of career opportunities and potential for people who enjoy working with people and for people who enjoy travelling. The basic requirement to be in the hospitality industry is you have to like people.
---
Holiday Inn & Suite Jakarta Gajah Mada
Jalan Gajah Mada No. 211
Jakarta 11120, Indonesia
T: (+62) 2129776800
---
Asia Dreams August – October 2019