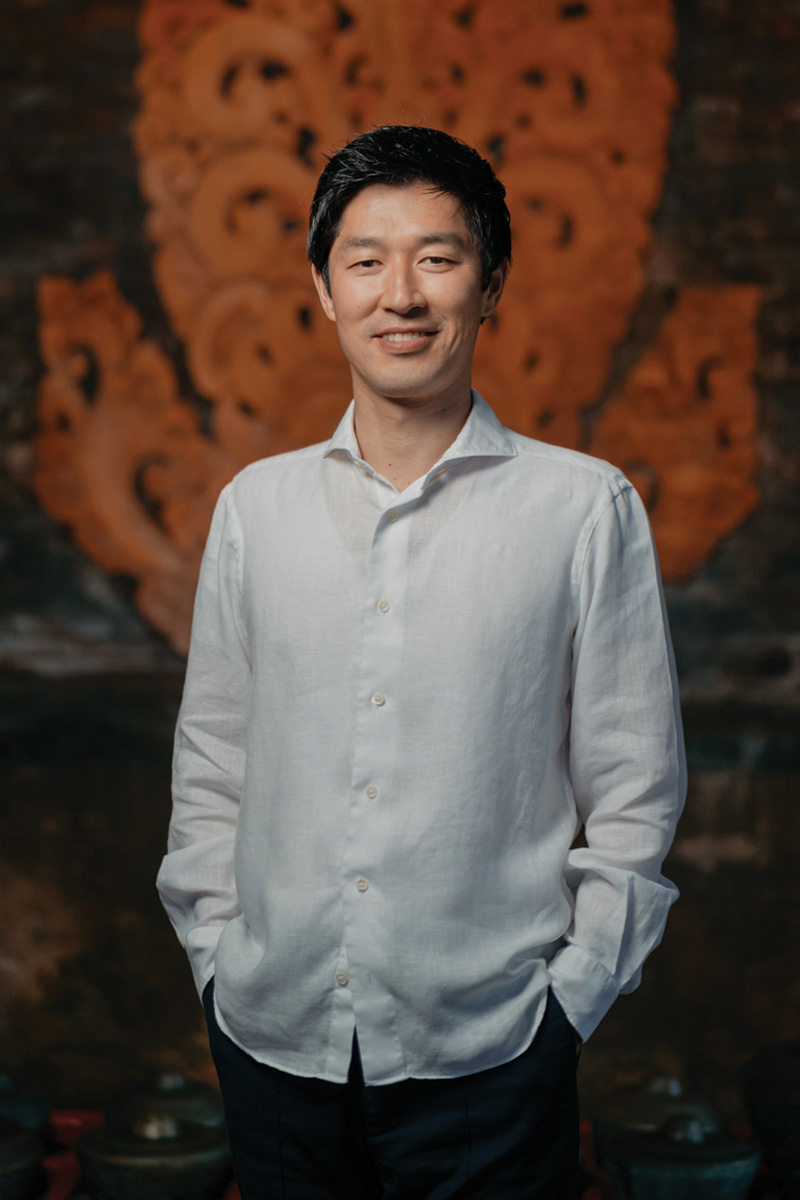 Nestled between rice fields and the Ayung River, Mandapa, a Ritz-Carlton Reserve is without doubt the most iconic property in Ubud. Offering bespoke service, the award-winning resort is now helmed by General Manager Masanori Hosoya. With over two decades of hospitality experience, he is no stranger to the world of luxury hospitality. We had the opportunity to sit down with this inspiring leader to learn why Mandapa is still the number one choice for travellers to Ubud.
Q: Please tell us a little bit about yourself and how you got to where you are today.
A: I was born in Japan and spent about 20 years living in Spain, where I started to dabble in the world of hospitality. Prior to taking this role at Mandapa, I was the general manager of the pre-opening team at The Ritz-Carlton, Nikko in Japan.
I began my hospitality career in Food and Beverage and worked for various Michelin-starred restaurants in Spain. The first Ritz-Carlton hotel I joined was The Ritz-Carlton, Abama Tenerife in 2005, followed by Hotel Arts Barcelona where I held several leadership positions. I returned home to Japan in 2014 and assumed the hotel manager role at The Ritz-Carlton, Tokyo for two years before moving up to my first role as general manager of BVLGARI Hotel and Resorts.
Q: You've been with The Ritz-Carlton group for more than 16 years. What can you tell us about the unique traits and characters of Ritz-Carlton that guests can find around the world?
A: For me personally, The Ritz-Carlton brand embodies the finest luxury experience and is known for providing exceptional customer service for all guests. We live every day through our brand's philosophy, The Gold Standards. As the credo would say, The Ritz-Carlton is a place where the genuine care and comfort of our guests is our highest mission. While for the Reserve, our service philosophy is the ultra-luxury evolution of this, building trust through heartfelt gestures to make lasting connections.
Q: Mandapa, a Ritz-Carlton Reserve is one of the most iconic properties in the world. In your own words, what differentiates this property from others?
A: The Ritz-Carlton Reserve is set apart by human connection. We have the mission to create the most personal travel experience in the world. We call our guests experience collectors. The exotic destination is the location, the landscaping of the Reserve is the star of the show, and the human connection shown by our Ladies and Gentlemen through genuine motives and care makes us different.
Q: How would you compare managing Mandapa, a Ritz-Carlton Reserve with any of your other hotel experiences?
A: If you see it through the eyes of a general manager, each hotel has different challenges, and everything depends on the situation. One thing that I always consider is making our guests a top priority. For Ritz-Carlton Reserve, besides delivering good products and service, it is about how to develop trust and connection with our guests.
Q: Being the leader of Mandapa now, what changes have you implemented, or begun to implement, since you took the reins? Can you tell us some of the things you have planned for the hotel in the future?
A: To be a good hotel, you need to have good products and services. During the pandemic, the hotel was closed for about eight months and now we need to restore the landscape to its former glory as the main star of the property, people should be able to enjoy the beauty of Ubud's scenery here at Mandapa village. Meanwhile, we are continuing to train the team to be the best. There has to be a balance between a good product and good service. 
The upcoming project is Ambar; we are currently working on the layout and the menu because we want to incorporate Japanese and Indonesian elements into the drinks and food we serve here. We also want to make Ambar the best sunset bar in Ubud.

Q: Having worked and lived in numerous countries over three continents, what have you learned from being exposed to different cultures and how do you adapt each time you relocate?
A: Honestly, wherever I go, I like it. Many places have their own unique things to be explored. I think this is what we need to enjoy if we want to quickly adapt to the culture and people. I always try to learn things and gain knowledge from travelling, especially through the people I have met.
Q: As a hotelier, would you consider yourself a difficult hotel guest?
A: Whenever I travel, I always try to be discreet and easy on everyone. I'm not used to complaining, but as a human being, I think it is normal to not return somewhere if I did not like something about it.
Q: How do you maintain a healthy balance between work, play and family?
A: I like to manage my time really well. In my spare time, I like to spend quality time with my family because I believe in quality over quantity. Sometimes, to charge my batteries, I enjoy playing soccer with some of our associates right after I finish work.
Q: If you weren't working in the hospitality industry, what would be your dream job?
A: I wish I could be an interior designer. It is beautiful to create your own space. I have always admired hotel design, which is why I want to be an interior designer.
---
Mandapa, a Ritz-Carlton Reserve