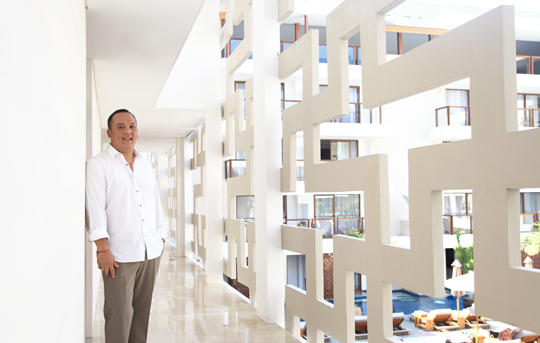 Hot on the heels of the opening of his newest hotel, The Bandha Hotel & Suites, Asia Dreams met with busy hotelier and entrepreneur Anak Agung Gde Prastista to find out how an engineering graduate ends up running three successful hotels and his own restaurant chain and how he has so many repeat guests who just keep on coming back.
---

Q: You are managing three different hotels, Bali Niksoma Boutique Beach Resort, The Magani Hotel and Spa and your newest venture, The Bandha Hotel & Suites. Tell us about the hotels and how they are different from each other. 
A: We started the family business back in 1986 with Bali Niksoma. It has almost 1 hectare of land, so we decided to create a resort and just build 58 rooms. In 2001, my father decided to completely renovate the hotel and we re-opened it in 2002. I moved to Bali around the same time and felt that the hotel could use a fresh approach, so I decided I'd like to try and run the hotel myself, to see if I could develop the hotel and brand. I told my dad, "I don't know anything about running a hotel, but I'm willing to learn. Let me try for one year, if I don't do well, then I'll stand down."  Perhaps being Balinese I have hospitality in my blood and having lived abroad and in Jakarta, I think maybe I have a reasonable idea of the world, especially what drives tourism.  Well, the hotel just went from strength to strength, so I suggested to my dad that we build another hotel. At that time plenty of people were saying that Niksoma was doing well because we were on the beachfront, but I thought it was a lot more than that. So, we bought some non-beachfront land and built The Magani as a city-style hotel with a Balinese influence.
Q: That must have been a big challenge. How did that lead to The Bandha?
A: Yes, running a city hotel successfully is very different from running a successful resort. The room rates are more challenging, the expectations different, but my team did a great job, followed my guidance and we had another success. Then, sometime later, the land next to Bali Niksoma, along with its existing property, became available. So we bought it. We first demolished the original building and then built The Bandha.
Although it's next to Bali Niksoma, I didn't want them to just be one single property type, so we designed and built what might be called a timeless property. Ultimately, my goal is to establish a hotel management company and the three different property types showcase what we can do across a range of styles and markets.
Q: Do you get a lot out of pleasure working in hospitality?  
A: Yes, I truly enjoy running these companies and get a great deal of personal satisfaction from it. Despite the effort and time, I don't feel like its hard work, it's just what I love to do.
Q: Your degree is in engineering. What do you think has been advantageous, if anything, about having an educational background that is completely different from hospitality?
A: There have been many benefits from my industrial engineering education, like understanding logic, having strong discipline, understanding that proper plans and processes are essential if you are to have a lasting and manageable system that works. For sure, it was a steep learning curve, but it's been a very enjoyable journey and I've not found the hospitality industry to be too complicated. It's a very different environment from engineering, which I found to be very boring! Working in hospitality, there's a real buzz and I feel like I'm on holiday every day. Although my dad wanted me to follow in his footsteps and become an engineer, I've found that I am more business orientated. All things happen for a reason.

Q: You worked in an oil refinery and were involved with a power plant in Kalimantan; how does that fit in with what you're doing now?
A: When I graduated, my dad asked me to come home to Indonesia. Eventually I got an engineering job with an oil company, but I didn't really enjoy it so I decided to start my own business. I love ironing – which I know is very unusual – so I opened a laundry business, in Bali, which is how I moved to the island in 2002. Although I'm Balinese, I grew up in Jakarta and most of my family is there. After I'd moved to Bali and taken on Bali Niksoma, business was good initially, but in 2005 there was the second bombing in Bali and the island's tourism took a hit. Based on that, I decided that we shouldn't have all our eggs in one basket. A friend of mine was involved with power plants at the time, so as I have an engineering background, we decided to work together. Perhaps predictably, I eventually found it boring, so I moved back to Bali and being hands-on in the family hotels.
Q: Is that how you diversified into restaurants?
A: In 2009, I decided I needed a new challenge, so, as everyone has to eat every day, I started looking at restaurants.
As Legian is a tourist area, I decided it should serve Western food, like pasta and grilled food; we found a site on Jalan Padma and opened Mozzarella, which has become very popular – in fact there are now several branches.
Q: What advice would you give to people looking to establish businesses here, and to people generally looking to join the hospitality industry?
A: When you're setting up a business, you should know where the best place for it is, find out what the customers need, so you can provide the right service in the right place. It's great if you can base your business on your own hobby or interests, but you have to be smart when you put it into place. Don't just follow the trends. You need to have your own unique product, something that differentiates you from the others. There are thousands of hotels already, for example. You have to really love what you do. For example, are you right for the hospitality industry? Hospitality is all about impressions, and it's vital to want to serve people and interact with them, otherwise you shouldn't be in the business! You have to work from the heart. In hospitality, if you just want to work, but don't have your heart in it, it's very difficult.
Q: You have a lot of repeat guests at Bali Niksoma. What keeps them coming back?
A: My team. I selected them very carefully, choosing only those who serve from the heart, not from the mind. They all want to engage and help make each moment of your time here special, they help create experiences. It's not just about a smooth check-in and check-out, it's about long-lasting memories, it's the positive experiences and memories that bring people back.
---