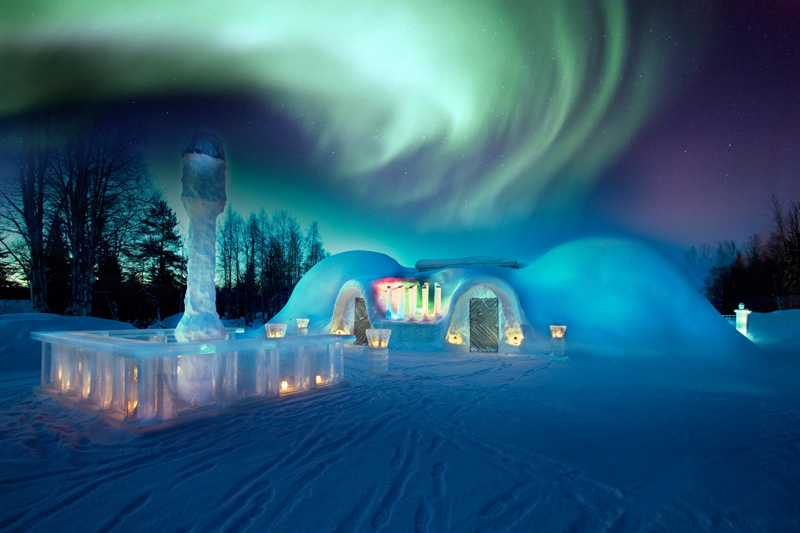 With the prestigious title of the Official Hometown of Santa Claus®, you must have heard about Rovaniemi by now, and if you haven't, read on.
Ensconced on the Arctic Circle, in the heart of the Barents region, Finnish Lapland to be exact, Rovaniemi is an intriguing destination offering picturesque natural scenery, an enriching and entertaining Nordic culture and an array of urban activities.
Santa's Home

The main reason why tourists from all over the world flock to Rovaniemi, however, is the all-year Christmas. The story started in 1927, when Uncle Markus, a good friend of Santa Claus, unintentionally unveiled Santa's home in Korvatunturi. Curious people tried to find it, but to no avail. Being the saint that he is, Santa Claus did not want to disappoint his friends, so half a century later he welcomed them to Rovaniemi for the first time. Rovaniemi has been dubbed the Official Hometown of Santa Claus® since then.
Kids and those young at heart around the world rejoice knowing they can meet Santa every day of the year at the Santa Claus Village, only 8km north of the heart of Rovaniemi. Other than being Santa's official hometown, Rovaniemi has also established itself as a hub for all friends of Christmas. Visitors can even order a letter from Santa and send their own holiday greetings from Santa Claus' Main Post Office, complete with a special postmark.
Year-long Delights

Santa Claus isn't the only year-long wonder that Rovaniemi has to offer. Thanks to its rich and vibrant cultural heritage, as well as its eight seasons, the region offers year-round tourism activities and programmes.
In addition to spring, summer, autumn and winter, Rovaniemi also gives the transition phases and their distinguished characters their own recognition: spring-winter, summer-spring, autumn-summer and winter-autumn. Due to Rovaniemi's geographical position, visitors can experience the midnight sun phenomenon sometime between 6 June and 7 July. The first snowfall even comes early here, in October.
The region's varied natural scenery and weather means visitors can partake in an extensive selection of sports and outdoor activities. In a warmer season, berry-picking and mushrooming are some of the favoured pastimes, as is roaming the many nature trails of the region.
When it comes to sport, the town has no less than 380 sport facilities, including skating rinks, swimming pools and snowmobile routes. Rovaniemi's green oasis, Ounasvaara, turns white in winter, providing a getaway for skiers and snowboarders.
Winter Wonders

While Rovaniemi opens its doors for year-long enjoyment, it's undeniable that winter in this region is simply exceptional. Whoever said that winter is time to hibernate obviously has never been to Rovaniemi.
For starters, dog lovers can have a blast with Rovaniemi's own breed of husky – sledding with them is an unforgettable pastime. You can also visit the husky farm and play with the piercing-eyed furballs all year long.
If you want to put yourself in Santa's shoes, opt for the reindeer sleigh ride across the snow and through Lapland's wondrous nature. The reindeer farms are also open for visits in summer, and you can choose from several cool activities, including aurora borealis hunting with the reindeers, feeding the reindeers, and more.
Of course, the one thing you should not miss while in Rovaniemi is the northern light tours. Sure, you've seen the majestic northern lights in pictures and videos, but it's nothing compared to witnessing the phenomenon first-hand. To make sure you capture the experience, take up one of the northern light photography tours that the region has on offer. The town also offers unique accommodations that let you view the northern lights from the comfort of your room or balcony.
---
Rovaniemi Tourist Information
Lordi's Square
Maakuntakatu 29-31
Rovaniemi 96200, Finland
T: (+358) 16346270
---
Asia Dreams May – July 2020