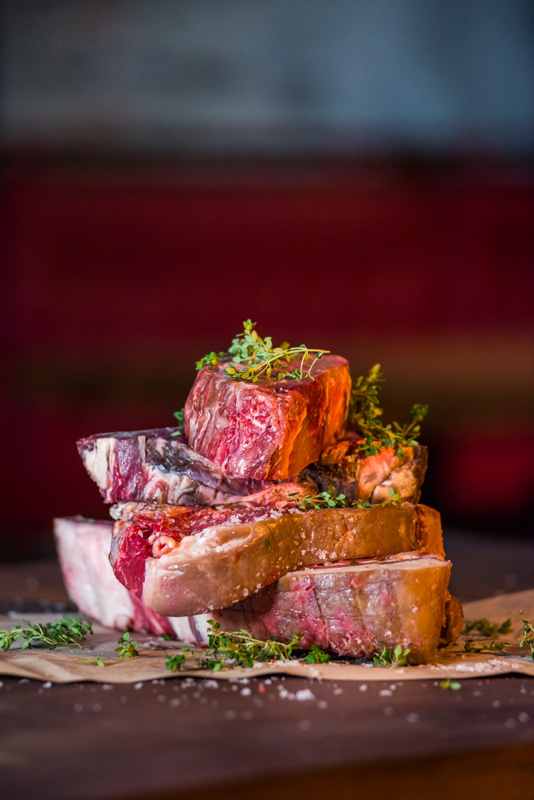 Boy'N'Cow is a buzzing steakhouse and cocktail lounge that believes in quality, be it a perfectly cooked dry-aged steak, a chimichurri sauce, a cheeky cocktail or the service.
Recently opened in Bali's buzzing dining hub is a restaurant dedicated to dry-aged steak perfection, while also catering to the not-so and non-carnivorous among Bali's gourmands.
The team behind Boy'N'Cow correctly identified a meaty gap in the market and designed a chic hang out that is ideal for a night out as well as for dinner. Funky, upbeat music provides a great backdrop to the evening without drowning out conversation and upstairs is a sultry, sophisticated cocktail lounge where guests can perch at the bar or sink into a deep red chesterfield to catch up with friends over a classic such as a negroni, as well as some imaginative modern libations.

Downstairs the culinary magic takes place in an open kitchen off the industrial warehouse-style dining area with cool lighting and a serious New York vibe. A group of envisioned investors and restaurateurs is behind the diner, looking to develop the meat scene in Bali.
The Boy'N'Cow team is passionate about steak and has shared this with the kitchen and wait staff, all of whom are keen to showcase these prime cuts and help diners choose the right cut of steak that suits their preference, explaining how the degree of doneness impacts on the eating enjoyment to make sure that every meal is the best it can be.
This passion for good food encompasses all the menu offerings and the appetizers have beautifully balanced flavours. Some of our favourites are the crunchy tuna tostada, the sublimely fresh and zingy hamachi ceviche and the creamy burrata cheese served with compressed heritage tomatoes, as well as the foie gras.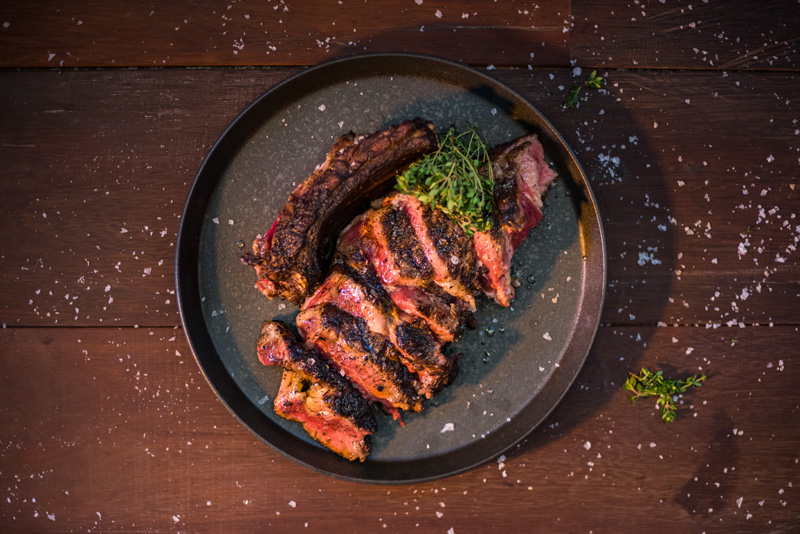 While the main courses are dominated by 28-day dry-aged US and Australian steaks, they are not the only choice. Pork tenderloin, lamb shank and grilled barramundi are all proving popular and there are even vegetarian options. Everything is cooked to the highest standards with great consistency, quality and care.
The steaks themselves are dry-aged in-house to seal in the wonderful flavours and servings are generally at least 350g, which the team says ensures a juicy steak with that lovely smoky char from the grill. The accompanying sides are so good that you'll want to dip into everyone's, not just your own; must-tries include the creamed spinach, parmesan and truffle fries and the homey bacon mac n cheese.
Servings are very generous, but if you do make it as far as dessert, go for the coffee crème brûlé or the mango sorbet.
Boy'N'Cow may be a newcomer to Seminyak, but it is already making a significant mark and adding to Bali's allure as a foodie destination.
---
Boy'N'Cow
Jalan Raya Kerobokan No. 138, Seminyak, Bali 80361, Indonesia
T: (+62) 3619348468