The much-loved Seminyak rooftop bar is back with a new menu to relish.
Double Six Beach has always been the most happening neck of the Seminyak woods, with the always lively beach where you can enjoy gorgeous sunsets and the overall pulsating energy of the neighbourhood. Now imagine basking in the one-of-a-kind atmosphere but from an elevated vantage point, 15m above sea level, to be exact. That wonderful picture is exactly what you can get at the trendy Rooftop Sunset Bar at Double-Six.
The first thing you will notice stepping into Rooftop Sunset Bar is its airy spaciousness and the sprawling view of the aforementioned beach and its surroundings. Covering 1,700sq.m the bar comprises wooden decks under a stylish tent-inspired ceiling with a touch of lush foliage. The most appealing elements are the "floating pods" in the front row of the mesmerising vista. The sunset view takes the spotlight here, that's why we suggest you head here late afternoon so you can sip on the potent cocktails waiting for the magical hour. As the sun sets, all-time favourite hits from the 70s to the 90s will entertain you.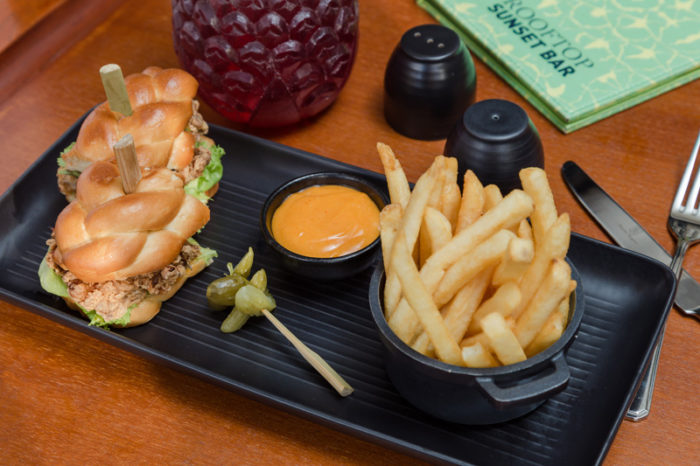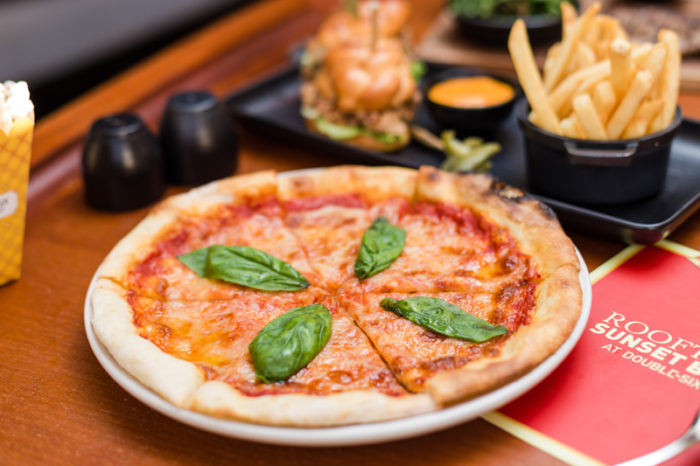 Although the view is the centrepiece at Rooftop Sunset Bar, the bites and beverages here are definitely worth trying. With various tapas selections, the bar recently launched a new menu that caters to different types of palate. The margherita and Hawaiian pizzas never fail. The grill section is perfect for those with big appetites, with Angus rib eye, sea bass and chicken breast in the selection. On the Indonesian front is the traditional nasi goreng and Bali chicken satay. For burger lovers, the Bang Bang chicken burger is great to start, while the Plantation Burger is for a banging finish.

If you're craving some Italian comfort food, then the pasta section will deliver, choose from Bolognese fettuccine or the Marche-style marinara spaghetti. For more chicken options, there is popcorn chicken, BBQ mini chicken tulips and a bowl of chicken wings. Don't forget about the desserts that are coming up: The Ultimate Chocolate Cake – layered sponge with chocolate mousse, marinated cherries and glazed with chocolate ganache, and the Plantation Tiramisu.
Don't try too hard to rush your time at Rooftop Sunset Bar, because although the sun has gone down, and you've tried all the food on the premises, the cocktail selection is more than enough to keep you relaxing (or partying) until midnight. With the cosy, intimate atmosphere, staying longer is actually not hard to do.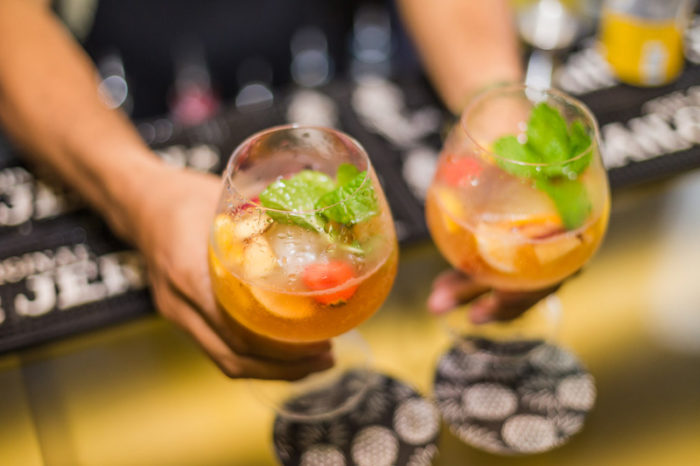 ---
Rooftop Sunset Bar
Double-Six Luxury Hotel
Double Six Beach No. 66, Seminyak,
Bali 80361, Indonesia
T: (+62) 361734300
E: reservations@doublesixrooftop.com