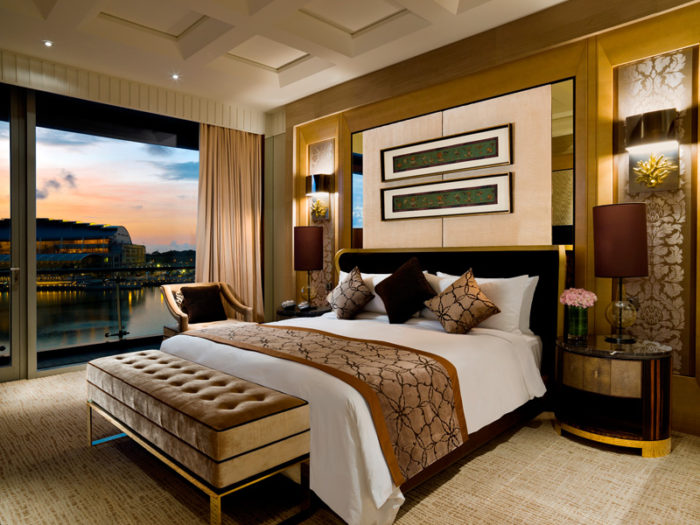 A stately experience awaits at the hotel's majestic Presidential Suite
---
Oozing contemporary sophistication, The Fullerton Bay Hotel, Singapore offers guests the enviable combination of classic, timeless elegance with a superlative location. Backed by the hotel's commitment to outstanding service, an excellent assortment of dining venues and Lantern, one of the most sophisticated roof-top bars in the city, it is a truly first-class hotel suitable for both leisure and business travellers alike.
The location is without question one of Singapore's finest. On the edge of Marina Bay and located on Collyer Quay it's just minutes away from many of the city's major attractions, dining and shopping hubs as well as its financial centre. Across the bay, see the iconic Singapore Flyer, the amazing Helix Bridge and the unique design of the ArtScience Museum, from where it's a short walk to Marina Bay shopping complex, The Shoppes and the marvellous Gardens by the Bay.

The Anderson Bridge links to the amazing Asian Civilizations Museum, the Arts House and Victoria Theatre, whilst surrounding the hotel is an incredible array of public art including The Thinker by Auguste Rodin, one of the most poignant bronze casts of the modern era.
The hotel offers guests a selection of limousine chauffeur driven options, but the city also boasts a clean and efficient integrated transport system which is perfect for independent travellers who wish to explore this wonderful island. The closest MRT station is Raffles Place Interchange and closest bus stop is almost on the doorstep.
Strategically positioned on the top three levels of the hotel, there are just six exclusive suites that offer views over the dazzling vista of Singapore's iconic skyline via their floor-to-ceiling windows and balconies. Each suite is themed and features bespoke art, décor and furnishings based on Chinese, Malay, Indian, Peranakan and Colonial influences, a reflection of the hotel's dedication to upholding Singapore's rich heritage.

With captivating day and night views over Marina Bay and the city, the Presidential Suite is a true expression of luxury and offers guests a generous living and dining area, lounge, study, opulent marble bathroom with customised Bottega Veneta collection room amenities as well as a spacious bedroom with the finest Egyptian cotton linen.
The Presidential Suite is not only the largest suite, it's also the most lavish. The design is an inspiring combination of the ethnic cultures, colonial influences and cosmopolitan qualities present in Singapore both now and in bygone eras. The interior features lavish golden acer and rosewood wall panels, accented with stylish textile art and artefacts. With a range of high-tech and infotainment features, the Presidential Suite offers guests a truly stately experience.
---
The Fullerton Bay Hotel, Singapore
80 Collyer Quay,
Singapore 049326
T: (+65) 63338388
E: fbh.info@fullertonhotels.com