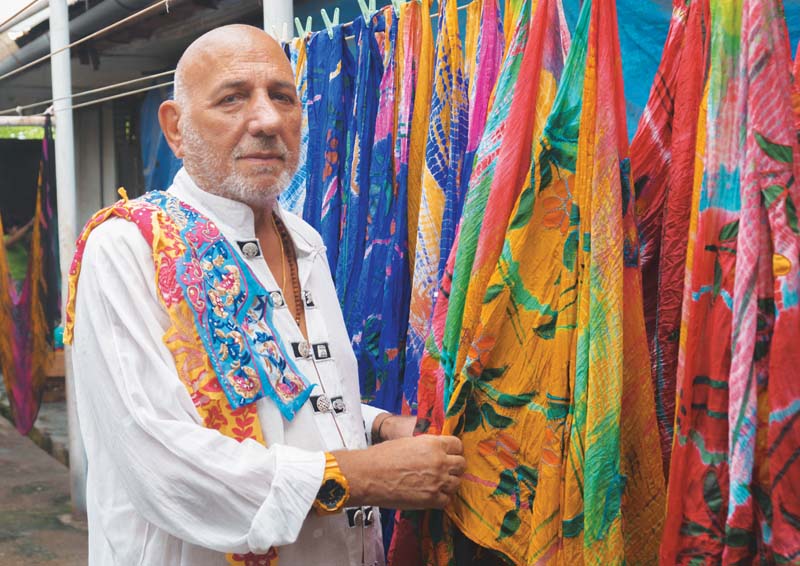 Paul Ropp is definitely no stranger to Bali's dynamic fashion scene. The namesake brand is famed for its bold and vibrant cacophony of colours, patterns and textures, with the provocative motto of "Clothes for people who prefer to be naked". To know the brand is to know the man behind the brand, and what a marvellously intriguing man he is. Hailing all the way from Brooklyn in New York City, Paul was a kid of the 60s free-spirited movement.
His journey before the brand was elaborate and colourful, dabbling in rock 'n roll, fashion and the glam and glitz of celebrities. Paul befriended Paul Butterfield of the Paul Butterfield Blues Band and became the band's road manager for Woodstock.

Paul's globe-trotting led him to India for 10 years, where he was infatuated with Indian and Chinese prints and materials. Around this time he created the Chinese Tibetan label, showcasing tank tops and t-shirts with Indian and Chinese patterns and fabrics. Along his journey, he found himself at the notorious Studio 54, watching a fashion show by Kenzo, and this inspired him to make his vision come true – the start of the Paul Ropp brand we all know and love.
Paul landed in Bali in 1978 and that's where the first Paul Ropp store took off. Within the next year, the brand was found in major resorts in Asia. These days, Paul Ropp has nine stores in Bali and four in Phuket, and the brand is distributed in 30 countries.
---
Paul Ropp
Jalan Pengubengan No. 1X, Kerobokan
Bali 80361, Indonesia
T: +62361730023
E: info@paulropp.com
shop.paulropp.com