Patricia Ghamami
General Manager, Amarterra Villa & Spa Nusa Dua Bali
---
With a determined passion for leadership, Patricia Ghamami leads Amarterra Villa & Spa Nusa Dua Bali with clear visions for success. She talked to Asia Dreams about the start of her career and her goals.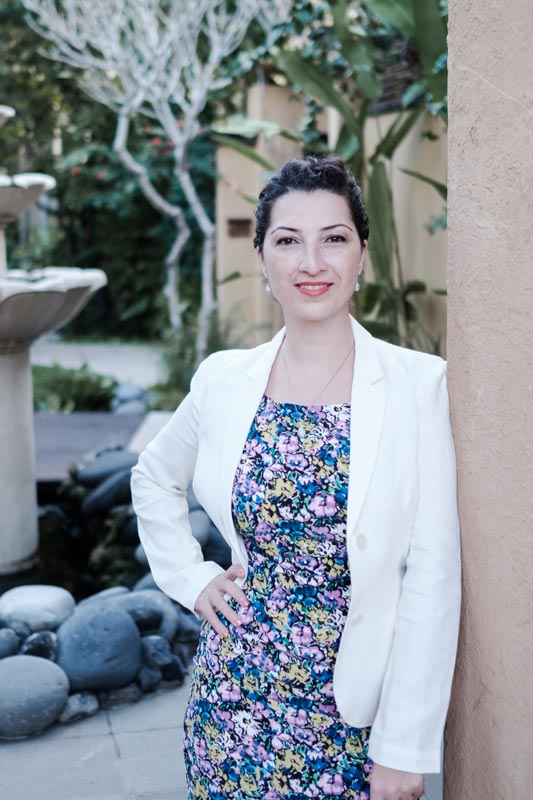 ---
Q: How did you come into the hospitality industry? Has it always been your passion or was it something that your path took you to?
A: I got into the industry purely coincidentally when I took up a part-time job as a restaurant hostess when I was a teenager to make some pocket money. I then proceeded to work all the way through my university years to pay for my education in various different food and beverage establishments. I studied clinical nutrition rather than hospitality management, but once I left the hospitality industry for a short while to pursue my career, I realised that what I really wanted to do was to work in hospitality, so I went back and haven't looked back since then.
Q: You've gone through quite a journey in your career, starting in the world of F&B. How did you feel when you were first appointed as the general manager of Amarterra Villa & Spa Nusa Dua Bali?
A: The goal for me was always to be a GM someday, and of course there are several paths to get there, one of which is through the food and beverage department executive leadership. I was elated to be promoted into the general manager role. I am deeply passionate about leadership and, of course, this position is the ultimate role in which to maximise your contribution and impact as a leader across several disciplines, to work with multi-disciplinary executive leadership teams, create a vision and lead a team to execute a common vision and achieve new heights in success.
Q: What's the biggest obstacle you've come across throughout your career, and how did you overcome it?
A: I think one of the great challenges, not obstacles, in an international leadership career is to work across and with different cultures, backgrounds, belief systems, labour laws, etc. across the globe. This is one of the most challenging and rewarding experiences in leadership. One grows tremendously, personally and professionally by learning from and adapting to new environments, points of view and perspective. You overcome this challenge by staying open-minded and humble, always willing to consider a new perspective and take joy in learning and growing.

Q: How would you describe Amarterra Villa & Spa Nusa Dua Bali to our readers who aren't familiar with the resort yet?
A: Amarterra is a true sanctuary! The perfect balance of tradition and modernity. A unique opportunity to experience Balinese living, both in a physical and a spiritual sense, while indulging in the luxury environment and facilities of ITDC and the white sandy beaches of Nusa Dua. Amarterra is one of the beautiful, boutique collections in MGallery hotels by Accor, with a very strong focus on the female luxury travellers' needs and desires. As with all other MGallery Hotels, Amarterra boasts a unique and spectacular interior design inspired by the glorious Majapahit kingdom. It is an exclusively all-private pool villa property, perfect for a honeymoon or romantic getaway, as well as a wonderful home away from home destination for a family vacation.
Q: What are you most proud of at Amarterra Villa & Spa Nusa Dua Bali and what are your plans and/or goals for the resort going forward?
A: Like any legendary hotel around the world, what we are most proud of here at Amarterra is our world-class service. It is always, without a doubt, the team of dedicated and passionate professionals in a hotel that create long lasting and exquisite experiences for guests in any hotel.
When I speak to guests throughout their stay, what I consistently hear from them is that despite the wonderful design, location, food and beverage and facilities of the hotel, what they will remember the most is how genuine, professional and exceptional the team members are, and how they were made to feel in every interaction.
Q: Do you have any advice for those who want to break into the hospitality industry?
A: Yes, this is the most exciting, interesting, challenging and rewarding career in the world. The sky is the limit in terms of what one wants to achieve in their career, the world is yours to discover and experience as a professional in this industry. There are very few other businesses that provide the same exhilarating journey of discovery to their constituents. I highly recommend this industry to all who are interested.
Q: People know you as the GM for Amarterra Villa & Spa Nusa Dua Bali, can you share who Patricia Ghamami is outside of work?
A: I'm a fairly simple person. I love nature, sports, travel, and food and beverage which is a great passion of mine. I am deeply interested in environmental protection and sustainable tourism. I dedicate a lot of my time to participating and engaging others in awareness projects and I sit on the Board of Diretors of Bali Hotel Association as  the director of environment. You may also occasionally find me out dancing salsa if and when I get a chance.
---
Amarterra Villas & Spa Nusa Dua Bali
ITDC, Nusa Dua
Bali 80361, Indonesia
T: (+62) 361776400
---
Asia Dreams August – October 2019