Embracing Cultures & Travel
---
Born in Spain, Oriol Marquez left home to take up a six-month training post with Hilton and hasn't looked back. Now in Bali, Oriol has worked and lived in 10 different countries and is fascinated by all the different cultures he has experienced. Asia Dreams talked to him about what he most enjoys about the hospitality industry and his plans for the hotel.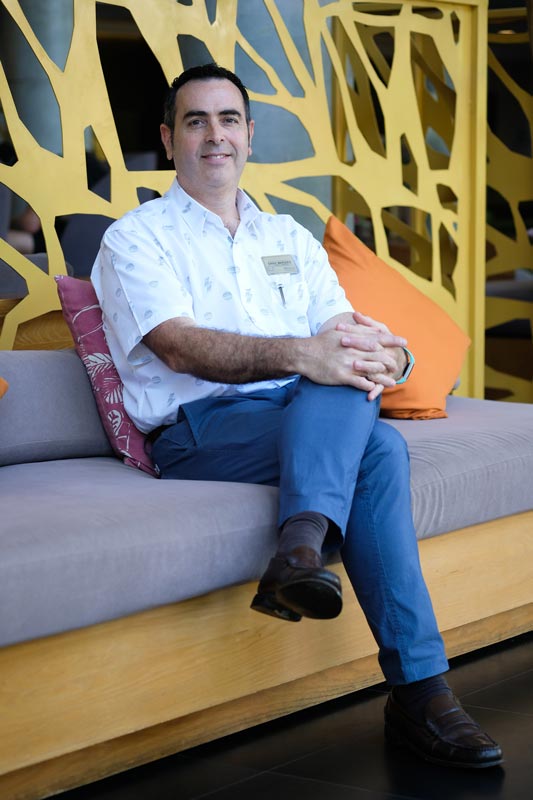 ---
Q: Could you share your first impressions of living on the island?
A: One of the first things I noticed coming out of the airport was Bali's strong personality and uniqueness. I've not seen such a strong identity in other Southeast Asian countries, like people wearing traditional dress to work. Even the food has a strong identity. Wherever you go there is a strong Balinese ambience.
Q: Although you were born in Spain, you've worked a lot in the Middle East and Asia. Is that by choice?
A: I left Barcelona, my hometown, 24 years ago for a six-month trainee post with Hilton, which led to this career where I've worked and lived in 10 different countries. I like to travel and to really get to know the places where I live, learning about different cultures and gaining a better understanding is fascinating.
Q: Do you especially enjoy the Middle East and Asia?
A: There is a part of our job that is less evident in Europe or the States as running costs are so high, that is people serving people. In the Middle East and Asia, the system is different and we have more time to focus on this. Of course, Asians also have an innate sense of hospitality.

Q: Can you share some of your plans going forward for this hotel?
A: We've just celebrated the hotel's third anniversary and are delivering a Hilton experience at very affordable rates. Our guests tell us that this doesn't feel like an airport hotel and that it is very comfortable with good facilities, especially the pool. We're also strategically located for guests to travel around the island and discover Bali, so it has become a destination hotel. I see this as the way to move forward – with a stay at the Hilton Garden Inn you discover Bali. We also have fantastic MICE facilities with ballrooms and meeting rooms, which is very convenient for delegates flying into Bali.
Q: Your background is in food and beverage, what is your favourite Asian dish and why?
A: I love Asian flavours, the smell of fresh coconut, pandan leaves, coriander, basmati rice being steamed. I love steaming white rice with a cinnamon stick and a couple of cloves and just a touch of olive oil – it's a fantastic mix. Unfortunately, I cannot eat chilli at all. Most of my favourites involve coconut; in Singapore there is a great laksa without chilli and in Thailand an incredible coconut soup. In Sri Lanka, I love hoppers, a bowl-shaped, rice flour crêpe.
Q: What have been your favourite work experiences over the years?
A: One of the most rewarding experiences for me is pre-opening. You don't even have walls! It requires a certain type of energy because the demands on your time are very high and you have to be flexible and adaptable. There are so many unexpected, last minute things that you have to deal with. I opened a hotel in Romania in 1997, nine years after the end of the communist regime, and the country was very short of commodities and items that we would have taken for granted.  The time and energy needed to teach the local people hospitality was so rewarding. They had to learn everything from scratch. Later, you see hotel reviews and comments online and you look back with great satisfaction. You must also understand the different cultures, opening a hotel in the UAE is very different from opening a hotel in Thailand, for example.
Q: What advice would you give to aspiring hoteliers?
A: The hotel industry is demanding and requires commitment and quality time. That doesn't mean being on duty 24 hours a day. In Hilton we believe that body, mind and spirit are all needed to thrive. You need time for work, family and self, otherwise what is the point in working? The human factor is vital – from people, through people for people is an important aspect to uphold. Guests are looking for an experience and how we treat our team members is how they will treat our guests. You must understand people if you want to be a successful hotelier.
---
Hilton Garden Inn Bali Ngurah Rai Airport
Jalan Airport Ngurah Rai No. 7, Tuban, Kuta
Bali 80361, Indonesia
T: (+62) 361 897 6100
---
Asia Dreams August – October 2019