Modern French from a Michelin-Starred Chef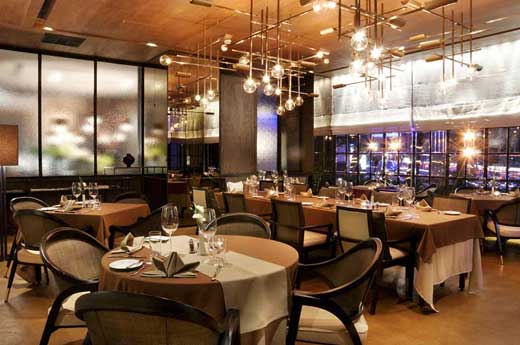 Jakarta's dining scene has evolved greatly in the last decade or so. As Indonesia's economy has boomed, more and more of its citizens have travelled and experienced the pleasure of high-class restaurants in other countries. Of course, they bring back with them heightened expectations that have pushed Jakarta's restaurants to offer more challenging and sophisticated fare.
A prime example of this would be Cassis. Although it has long been considered one of Jakarta's finest French restaurants (and winning multiple awards for its excellent reputation), the management has never been satisfied to rest on its laurels. A few years ago, the restaurant underwent a major renovation, hiring James Beard award-winning restaurant design firm Yabu Pushelberg to give the restaurant an elegant, contemporary look. And just last year, they managed to recruit one of the most exciting culinary talents working in Jakarta today, Michelin-starred Chef Jerome Laurent.
Chef Jerome, who trained with French culinary titans Alain Ducasse and Bernard Loiseau, won his Michelin star as the Chef-Owner of Le Cilantro in Arles, France. He won acclaim from critics for his unique brand of modern French "nouvelle" cuisine, which eschews the use of heavy cream and wine-laden sauces in favour of light dishes that use broths and fresh vegetable to create cuisine with even greater impact. In 2013, he made the move to the Indonesian capital to take on a new challenge and role as the Cassis Group's Executive Chef.
In describing his approach to French cuisine, Chef Jerome said, "I try to remove a lot of the fat from my dishes. For me, that is very important. These days, people go to restaurants but they're busy and they don't want to spend too much time there. They have a lot of other things to do after they eat. That's why, for me, it's important to serve light food that is not too heavy. My goal is to create dishes that taste nice but also let you feel nice after eating them. I also like to use a lot of spices and herbs, things like Javanese long pepper, ginger and galangal, the kinds of things that are refreshing to the palate and can add a new dimension to old recipes."

Now several months into his new role, Laurent has fully settled into the kitchen and thoroughly updated the menu. While many of the classic preparations that the restaurant's long-term patrons have come to love (such as the signature pan-seared foie gras "Cassis," with caramelised  apples, toasted brioche, and, of course, black currant sauce) remain on the menu, there is also a wide variety of dishes that highlight Chef Jerome's style of modern French fare with a light touch.
On our most recent visit to the restaurant, our meal began with an exquisite baby lobster ravioli. The ravioli was bathed in a delicate ginger broth strongly flavoured with the essence of lobster. The intense flavour of the sauce comes from slowly cooking the shell and head of the lobster to distil its flavour into the liquid. The natural sweetness of the baby lobster matches well with the crisp freshness of the cucumber and baby lettuce that also dot the dish, while the tang of ginger and galangal in the broth makes every morsel memorable.
Other Asian ingredients such as cilantro and coconut make several appearances on the menu, usually used to add balance or new dimensions to dishes. We tried a foie gras stuffed chicken breast that also utilised pok choy. The dark green vegetable was a great foil for the chicken breast studded with creamy bits of foie gras. The incredibly succulent meat and vegetables, as well as a creamy macaroni and celeriac gratin made for a seriously satisfying plate. Chef Jerome's finesse extends to dessert as well. Our latest visit to the restaurant ended with his elegant strawberry hibiscus dish with homemade ice cream, topped with batons of meringue and flashy slivers of gold leaf.
While there are many excellent, highly-talented chefs working in Jakarta today, Cassis' claim to having the only Michelin-starred chef in the city makes it a required visit for true lovers of gourmet cuisine.