Shane Coates
General Manager, Hard Rock Hotel Bali
---
After many years' experience in luxury hospitality in Australia, Shane Coates followed his dream of working in Asia, put away his suits and ties and joined Hard Rock Hotel Penang. Now general manager of Hard Rock Hotel Bali, Asia Dreams talked to him about combining luxury hospitality and the Hard Rock brand.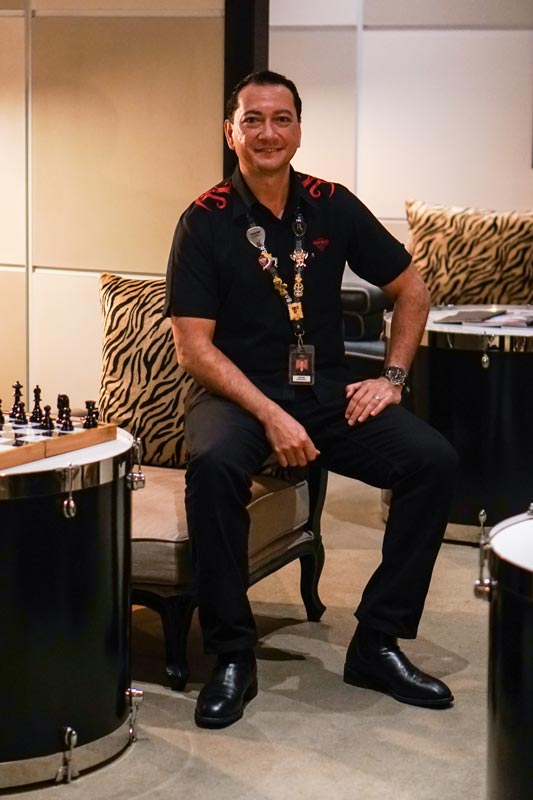 ---
Q: Has the hospitality industry always been your passion, or was it something that just happened?
A: You could say I was born into hospitality as my father was a general manager and I was always in and out of hotels. I find them fascinating and discovered I get a lot of satisfaction and am driven by exceeding guest expectations.
Q: How do you incorporate the rock'n'roll lifestyle into the world of luxury hospitality?
A: Essentially, the brand's DNA is music and we recruit people who reflect that vibrancy, while still being able to provide luxury service. As the leading entertainment hotel in Bali, we have a choice of live bands playing every night. Our facilities and amenities are music-focused, some examples include our complimentary Sound Of Your Stay music program offering a library of 20 Fender guitars to jam out with, curated playlists to download, and vinyl records and turntables available for in-room use.  We have a Recording Studio complete with instruments for guest use, even our Spa has signature Rhythm and Motion treatments that involve overhead sound domes and subwoofers under massage tables.
Q: What about younger guests?
A: We've won countless awards as a family hotel. We have a very large pool, a new waterpark, even a kids' pool bar serving great milkshakes. Roxity Kids Club is for ages 4 to 12, while TABU Teens Club has a cinema and a nightclub equipped with a multi-purpose DJ Booth so kids can learn to DJ, as well as an internet and gaming lounge and so much more. We also have the Lullaby Playroom for kids under 4, where toddlers and their parents can relax outside their room. Kids love our hotel.
Q: Can you tell me about the brand's memorabilia?
A: We have over 1000 authentic pieces of memorabilia around the hotel and café and are arranging a full memorabilia upgrade for next year to incorporate some of the more current stars. As Hard Rock has evolved over the years, while rock remains our core heartbeat, we've moved from being purely rock focused to celebrating music globally.
Q: What's the biggest obstacle you've come across in your career?
A: I would say leaving my comfort zone living and working in Australia, but I had always wanted to work in Asia, so I took the opportunity.
Q: You've been with Hard Rock Hotel brands for quite some years, and Hard Rock Hotel Bali for 5 years now, what makes you stay?
A: Coming to work is fun every day and I lead a tremendous team. On top of that, the lifestyle here is amazing, I feel so fortunate to be with this brand and here in Bali.
Q: How do you keep things relevant for Hard Rock Hotel Bali?
A: We're in the midst of spending USD12 million updating our rooms and facilities. We've upgraded Centerstage and added 84sqm of LED screens, we've got the new kids' waterpark and we've also researched new technologies to improve efficiencies and guest experience.
Q: What are your future goals for Hard Rock Hotel Bali?
A: In the short term to complete our major upgrades by early next year and update our markets on all our significant improvements. And to continue enhancing our sustainability programs, and further diversify our philanthropic initiatives in the local community.
Q: Do you have any advice for those who want to break into the industry?
A: This industry requires a lot of patience, but set your goals, work hard and remain focused.  This should give you a platform for success.
---
Hard Rock Hotel Bali
Jalan Pantai Kuta
Bali 80361, Indonesia
T: (+62) 361761869
E: bookings@hardrockhotels.net
---
Asia Dreams August – October 2019