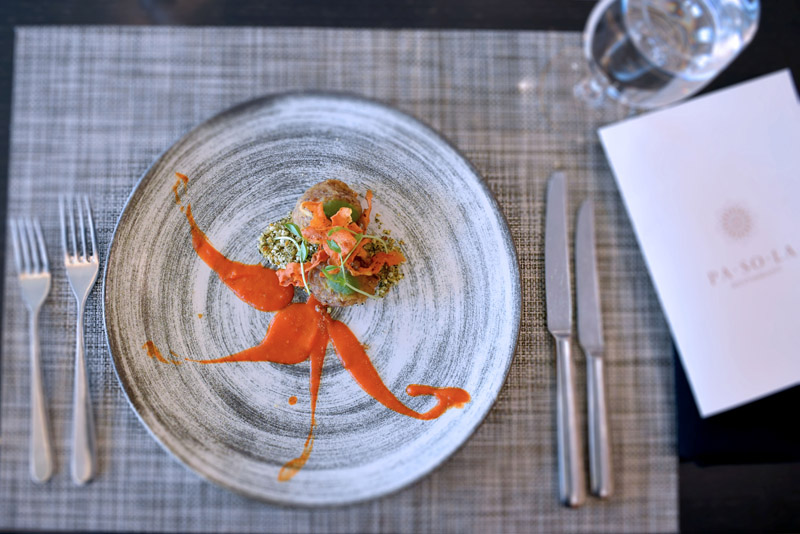 The Ritz-Carlton Jakarta, Pacific Place introduced its latest culinary outlet PASOLA to great fanfare on 5th December. Jakarta's leading gourmands and luminaries were present for PASOLA's opening ceremony. PASOLA offers an exciting array of gastronomic creations dreamt up by The Ritz-Carlton Jakarta, Pacific Place's Executive Chef Sean Macdougall and his talented culinary team. With an emphasis on international palates while sourcing the finest artisanal produce indigenous to Indonesia, PASOLA's brilliant cuisine is set to amaze and delight its diners in equal measure.
Originating from the Sanskrit sula, the word PASOLA represents the spear and is used in a revered traditional ceremony from Sumba, in which the locals celebrate a bountiful harvest by showing their gratitude. The logo of PASOLA is designed in tribute to this tradition. Beautifully crafted, the design incorporates the lotus flower, koi fish, rice paddy, the sun's rays and a spear, which represent passion, perseverance, wealth, new beginnings and victory.

Located on Level Six of the hotel, diners can enjoy the dazzling Sudirman Central Business District skyline through the floor-to-ceiling windows while tucking into a sumptuous meal at PASOLA. The all-day dining restaurant comfortably seats 60 people with a variety of options for breakfast, lunch and dinner, aside from its sumptuous à la carte options. The restaurant's signatures include the rendang arancini – a twist on the Italian classic rice ball, stuffed with mouth-watering rendang pieces and the delectable barramundi dabu-dabu – perfectly cooked slices of fresh-caught barramundi served with tantalising spicy dabu-dabu sauce. Guests with a sweet tooth definitely should try the kecombrang-infused Bali chocolate ganache. Traditionally used as a savoury spice mix, kecombrang pairs beautifully with the rich and velvety Balinese chocolate in this decadent temptation.
---
The Ritz-Carlton Jakarta, Pacific Place
SCBD, Jalan Jendral Sudirman,
Jakarta 12190, Indonesia
T: (+62) 2125501888