Rai Arya
Owner, Maya Resorts Bali
---
Rai Arya finds time in his busy schedule to sit with Asia Dreams and talk about how his family started their endeavour in the thriving hospitality industry in Bali. From how his father started the legendary Legian Beach Hotel, and how he and his siblings continued the legacy and established the famed Maya Ubud and Maya Sanur resorts, to the importance of hard work and family.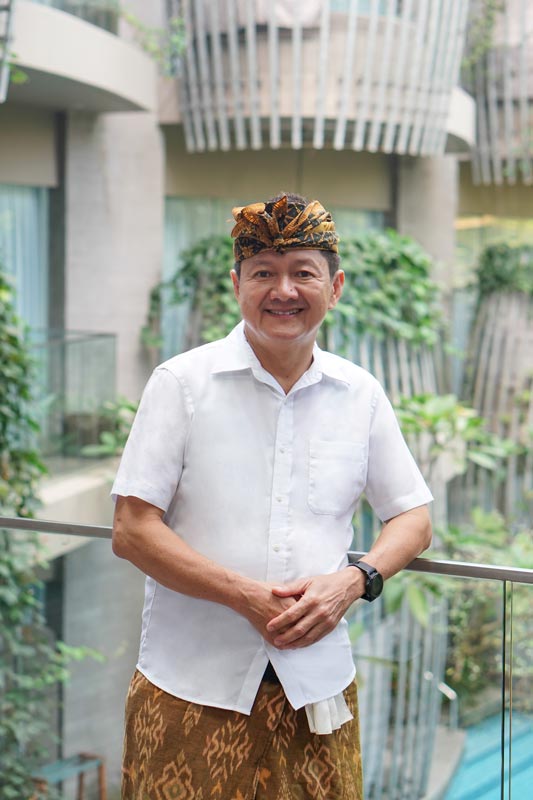 ---
Q: How did you first get into the hospitality industry?
A: My siblings and I are the second generation to run the family business; I have three older brothers, one younger brother and two sisters. My father started Legian Beach Hotel in the early 70s, but he had to retire in the mid-80s due to severe back pain. My older siblings started taking over the business then, and now we all have our different roles.
I had just completed my MBA at the University of New South Wales when I decided to return to Bali in December 1990. Before I obtained my MBA degree, I had an exciting career as an electrical engineer in the R&D department for a large telecommunication company. Telecommunications was the up-and-coming industry at the time, and electronics was my passion. It was not an easy decision, but I chose to help my family business over following my passion. My first job was to set up the front and back office's computerised hotel system.
Q: What is the secret behind your hotels' success and how have you been a part of this?
A: Success is such a relative term. There's a saying in Indonesian that there are still skies above this sky, which basically I take to mean there's always room for improvement. I think we are successful because we keep reminding ourselves about the importance of sustainability. We can only take pride in our financial sustainability when we have achieved balance, just like in the Balinese philosophy of Tri Hita Karana – in which we are in harmony with God, with the people around us and with the environment. Operations of the two Maya resorts revolve around translating this concept of balance and harmony into being financially sustainable.
I was fortunate to have the opportunity to recruit and work with so many talents for the Maya Ubud and Maya Sanur projects. I would like recognise three key people – without their help, Maya resorts would not have been as successful, my good friend the award-winning architect Budiman Hendropurnomo, general manager Paul Blake, and the late Ronny Sugita, a highly regarded project manager from whom I learned a lot, especially about managing a project.

Q: What is the biggest obstacle you've come across during your career and how did you overcome it?
A: The world is running at a rapid pace and it's changing so fast. During this time of digital disruption, we need to be hyper-aware by constantly scanning opportunities and threats, and we need to move quickly – often valuing speed over perfection. The importance of social media took us by surprise. It is not enough to be only good at what we are doing, we need to be aware of how effectively we are communicating ourselves to our customers through social media. We just need to keep learning and have a growth mindset.
Q: What advice would you give to people looking to emulate your success?
A: I would advise reading Growth Mindset by Carol Dweck, a professor at Stanford University. She categorises individuals according to their implicit views of where ability comes from. Some believe their success is based on their natural ability – something they were just born with, these are said to have a fixed mindset. Others believe their success is based on hard work, learning, training and persistence, and these are said to have a growth mindset.
I believe in skilled people, talents, that can be stretched with a growth mindset. I believe you need to have the ability to recognise people with skills and somehow bring them together to achieve something bigger.
---
Asia Dreams August – October 2019