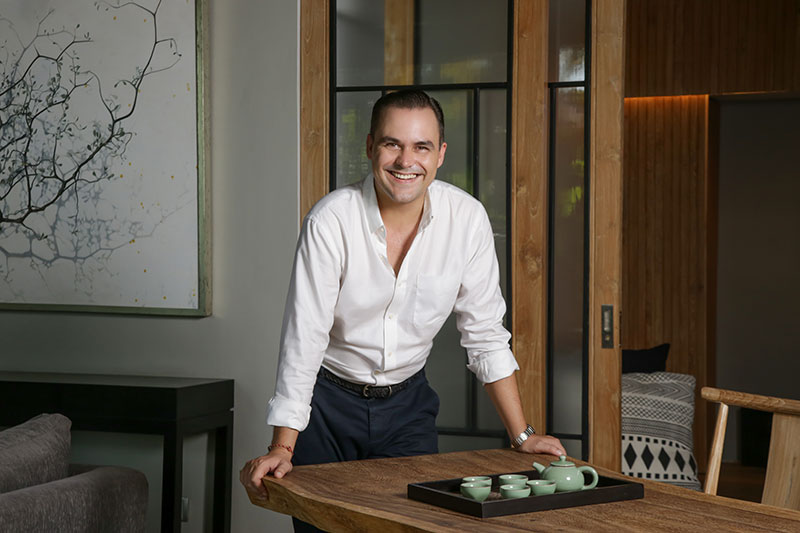 A true leader, Roy Suer uses his experience working in luxury boutique resorts around the world to create a calm and collected work ethic for his staff. Even in tough times like these, he has the perfect formula to create solutions, while still maintaining flawless day-to-day operations.
Q: What made you decide to have a career in hospitality?
A: Right after finishing high school, I started with vocational training as a restaurateur in Germany, then managed a small hotel bar. Later, I worked on luxury cruises, and it was during this time that I got to destinations such as Tahiti, the Maldives, the Seychelles and Fiji. This fired me up to study hotel and hospitality management. Afterwards, I went to the Maldives and worked on a small, private luxury island as F&B Manager for over 3 years. Then moved to Fiji to a larger property in the Mamanuca Islands. After being involved in an extensive renovation of the resort, I decided to move to Bali for a holiday.
Q: You've lived in some of the greatest places on earth. What did they teach you about the industry?
A:  Every step in my career has brought me to exciting, inspiring places. The Maldives taught me about the highest levels of service. Meanwhile, in Fiji, I was involved in project management for a large private island resort. People always learn along the way from the relationships, challenges and experiences we encounter.
Q: Aside from being a general manager, you are also a qualified coach certified in practical psychology. How does that help you in your role right now?
A: It helps a lot! Coaching and my interest in psychology are rooted in my experience as a trainer and examiner, and they are very applicable in this industry where we have contact with so many different people. I'm still enrolled in a psychology degree, but I haven't found enough time to finish it yet.

Q: What makes your properties in Seminyak stand out from the rest?
A: Their size and the personalized service are two of the main things that make us stand out. At Villa Air Bali, the Herbs & Stones Garden Restaurant overlooks a peaceful garden that keeps guests coming back for more. While at The Amala and The Amala Estate, the carefully crafted spa and wellness experiences are what differentiate them from others in the area.
Q: With the current situation, how do you keep your property afloat?
A: The massive scale of this outbreak and its sheer unpredictability made it challenging to respond appropriately at first. It placed significant responsibility on leaders. We have had to pause and assess, gathering facts to be able to prepare for the appropriate actions. I'd say the four C's helped me a lot: communication – calm and clear communication, along with gathering facts and discarding hoaxes is essential. Next is community, seeing where we can help, how we can collaborate to use resources better and find appropriate solutions. Third is compassion, and lastly, cash is essential when running a business, especially during a crisis. Funds have to be preserved to ensure salaries could be paid on time.
Q: Sustainability is important for modern travellers. How does the hotel address this?
A: We all have a responsibility to do things right and I believe hotels and hoteliers should anchor a sustainable approach deeply into business and do the right work in terms of environmental, social and financial sustainability. In our case, we have removed lots of single-use plastic from the resorts, we work on waste management and have done lots of training with the team, and collaborate with the Indonesian DMC in all hotels. At Amala and The Amala Estate, we have a detailed sustainability policy and vision in place. At Villa Air Bali, we won a Gold Tri Hita Karana Award last year, which also covers environmental sustainability impact.

Q: Can you share any particular moment from your career?
A: There are many, but what comes to mind is when we went to a local island by boat with a team of resort executives in Fiji to conduct job interviews and ended up interviewing half of the island. People came with their letters and resumes to a hut by the beach, and we conducted interviews at a makeshift table made from a wood log. We hired many of the interviewees.
Q: When you're not working, what do you get up to?
A: I spend time with my son, who is really enjoying growing up in Bali. If I find a bit more time, I look for a hammock in my garden to read or spend time visiting the neighbouring islands, as well as Sidemen and Ubud.
---
Villa Air Bali Boutique Resort & Spa
Jalan Lebak Sari
Seminyak, Bali 80361
T: (+62) 361737378