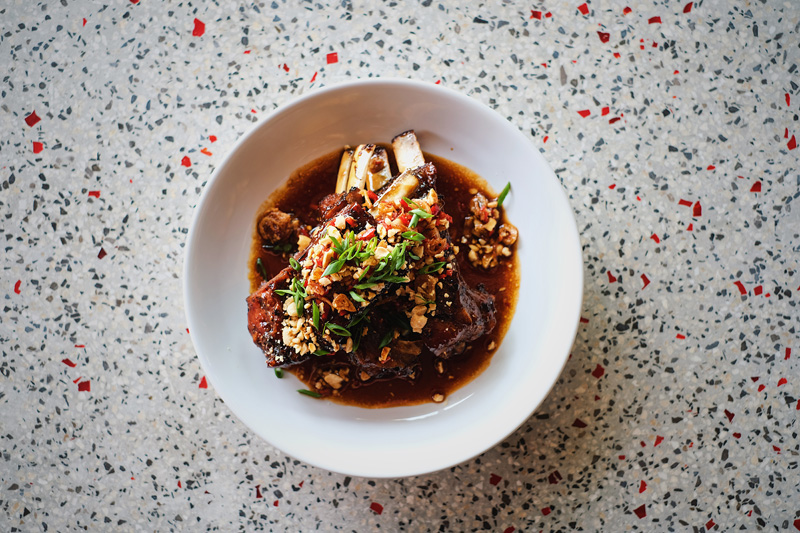 Juxtaposing the Asian street food culture with the Western diner lifestyle, Street Boi is the tough kid you need to keep an eye on.
Street Boi is an example of intriguing contradictions that work really well. Just a short walk from Petitenget Beach, where most dining establishments parade a tropical lifestyle and aesthetics, Street Boi exudes an urban feel with its sleek, predominantly black façade and light box sign.
Stepping into the joint, your attention will most likely fall on the novelty posters on the wall – including a vintage Star Wars poster that has been altered to Bao Wars, and one in particular, a Bruce Lee vs Chuck Norris poster. This last one is significant because it describes the cuisine concept that you're about to enjoy at Street Boi – Asian badass combined with a tough guy from the West, resulting in one of the best cinematic wonders / culinary creations.
Add to that Asian street food culture, the diner concept and an overall kickass ambience, and you'll get Street Boi. In addition to Lee and Norris, the ultimate star here is the bao – an advanced version of the bao, to be exact. Imagine bao in the shape of burger buns, filled with the most creative and mouth-watering fillings.

First-timers who bring along big appetites should definitely give the Porky Pork bao a try. Inside the warm, pillowy bao is twice-cooked glazed pork belly, complete with a refreshing and crunchy slaw of cabbage, apple, red onions and radish, all topped with Asian verde sauce.
That's not all. Reminiscent of a good ol' fashioned cheeseburger, Chuck's Bao is another item on the menu not to miss. In between the bao buns are a hefty 120g beef patty, smoked cheddar cheese, grilled caramelised onions, lettuce, tomato, pickles and mustard. Topped off with garlic confit aioli and Street Boi's signature sauce, this hearty heavyweight is not kidding around.
For those of you who have a taste for Korean delights, try the KFC Bao, filled with Korean-style fried chicken, red cabbage and gochujang mayo. Meanwhile, vegetarians can take comfort in the Vego Bao, with chickpea patty, carrot, smoked cheddar cheese, curry mayo and chilli oil.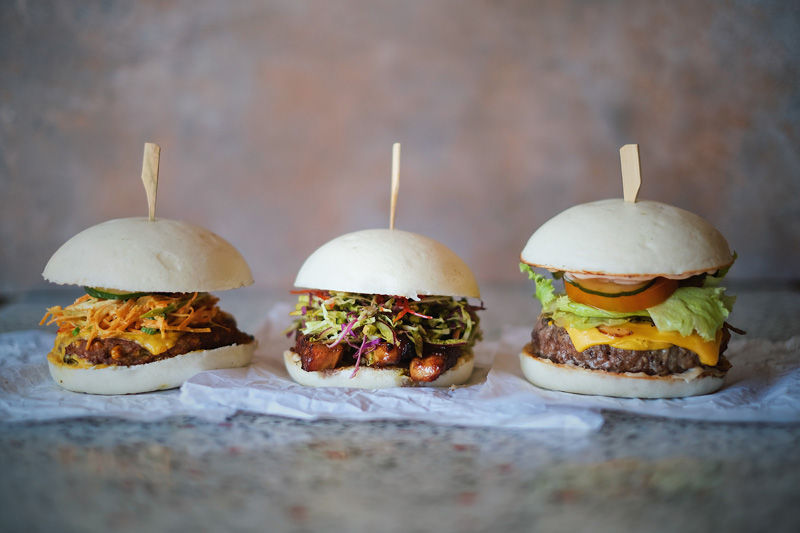 If you don't really feel like devouring scrumptious bao at the moment, fret not, as Street Boi also offers other delicious dishes that really pack a punch and carry a kick. The prawn and bacon dumpling served with ginger, black vinegar, Szechuan chilli oil and peanuts boast rave reviews from long-time guests; the popcorn fried chicken served with gochujang mayo is a great comfort food; and the loaded fries are an appetising cacophony of pulled beef, smoked cheddar cheese, tomato salsa and Street Boi's sauce.
While the burger culture has milkshakes, the bao culture at Street Boi offers refreshing smoothies, like Solitude – strawberry, milk, mango, plain yogurt and honey, and Blue Sky – blueberry, banana, milk, honey and plain yogurt.
You really shouldn't leave Street Boi without taking a sip or more of its craft cocktails. The Seminyak Mule mixes vodka with homemade ginger and herbs, offering a delectable warm sensation all the way down. Sick Boy caters to those with a penchant for desserts, with scotch, spiced rum, chocolate bitters, sweet vermouth and black cherry. Last but not least, the SB Negroni is not to be missed!
---
Street Boi
Jalan Petitenget No. 18AA, Seminyak
Bali 80361, Indonesia
T: (+62) 81236768665
---
Asia Dreams May – July 2020