Desa Visesa Ubud offers so much more than just a place to stay. Experience daily Balinese life from the lap of luxury in Ubud's cool highlands and fall in love with the island and its culture.
---
Bali is an enchanting island full of colourful rituals, mystical dances, gorgeous landscapes and an entrancing way of life. The heartfelt service and myriad entertainment options available to tourists have people flocking in from around the world.
Those in search of a glimpse, and perhaps to even become involved in the authentic Bali should head to Ubud to Desa Visesa Ubud, where you can experience Bali's traditions on a personal level.

Designed to recreate the harmony of a traditional Balinese village, and using natural materials found locally for the construction and decor, Desa Visesa Ubud offers 66 pool villas and 40 suites with views across rice terraces, the lush rainforest and the resort's lagoon. Featuring both indoor and outdoor living, the accommodations are plush and the 225sq.m. two-bedroom pool villas are ideal for families, having a king-sized bed in one bedroom and twin beds in the other.
The resort fully embraces its Balinese nature and is proud to showcase local art, carvings, traditions and nature to capture the hearts of its visitors. The lobby features a mesmerising volcanic sandstone carving of the sacred lion-like barong – a dramatic figure at the heart of Bali's mythology – which receives colourful offerings every day from the local staff.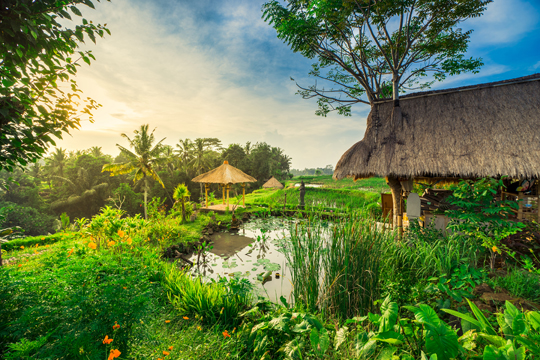 The resort is ensconced within the 6.5ha grounds and guests can expect to be welcomed and invited to participate in all the uniqueness of Balinese life as it happens around them. The traditional purification ceremony – melukat – takes place at full moon and certain days on the Balinese calendar and is a truly magical experience, especially for those looking to refresh and rejuvenate their minds and souls; guests can join any of the Balinese rituals that occur while they are visiting, tour the resort and surrounding villages by bicycle, dress as Balinese royalty, enjoy a candlelit massage in a cave and learn to make local food. Shed your urban lifestyle and get muddy in the rice fields, make Balinese offerings, explore the permaculture gardens that supply the resort's restaurants or indulge in sublime spa treatments as you soak up local life.
The dining options are varied, delightful and as interactive as you wish, offering tasty, wholesome, organic food ranging from home comforts to fine dining. The Lesung Restaurant's bamboo dining pavilions overlook a working rice field and make the perfect setting to indulge your taste buds in the glory of the uniquely Balinese megibung, a communal meal comprising a whole range of dishes eaten with rice. Padi & Lumbung Restaurant is where tempting dishes designed by one of Indonesia's celebrity chefs can be found, while Warung Tani – the farmers' stall – presents food prepared on the spot in a traditional Balinese kitchen.

Should you wish to explore Ubud and beyond, a shuttle is available to and from the resort. However short your visit, the warmth and welcome found at Desa Visesa Ubud is sure to quickly make it feel like your second home.
---
Desa Visesa Ubud
Jalan Suweta, Banjar Bentuyung Sakti, Ubud, Gianyar,
Bali 80571, Indonesia
T: (+62) 361 209 1788