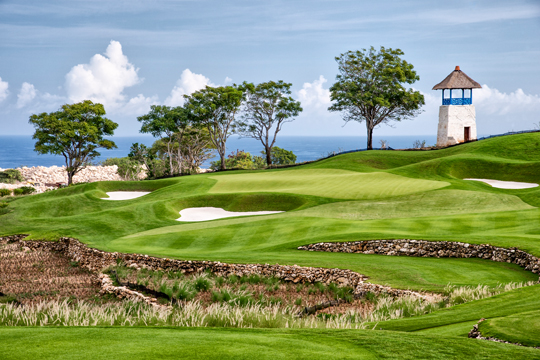 With today's busy lifestyles, the challenge of par-3 golf courses, playable in two-and-a-half hours, is the happening trend, one offered by Bukit Pandawa Golf and Country Club, a World Golf Awards nominee for World's Best Par 3 Course 2017.
---
Bukit Pandawa Golf Course is the first 18-hole championship par-3 golf course in Southeast Asia and according to British PGA golf professional Stephen Banks, its general manager, it is probably more difficult to play under par gross at BPG&CC than a standard golf course.
Built to full international USGA specifications, this superb cliff-top course forms part of the 150ha Bukit Pandawa Resort & Golf integrated resort. Bob Moore of the California-based JMP Golf Design Group has created a masterpiece high on a limestone cliff in southern Bali with sweeping panoramic vistas of the Indian Ocean.

Making the most of the natural rocky outcrops and undulating land, he has designed a course of stunning dramatic beauty with clever bunkers, stone walls and waterfalls that nestle into the topography and add to the enjoyment and the challenge. The gorgeous views and the breeze off the Indian Ocean make the course even more stunning.
This easily accessible par-54 course has three tee levels, making it an exciting proposition for all golfers, even professionals. The signature hole is the 148-yard 13th, framed by three bunkers and featuring curved stone walls in the foreground with an ornate Balinese bell tower and the Indian Ocean in the background. It uses Pure Dynasty grass, a flexible and durable seashore paspalum, and has tee time intervals of 10 minutes.

The impressive 3,000sq.m. clubhouse is perfectly suited to the arresting landscape and is inspired by the traditional Balinese bell tower and water palaces. The Kul-Kul Restaurant sits on the top floor and offers al fresco and covered dining areas. The menu presents sophisticated comfort food prepared to the highest standards from carefully sourced, predominantly local ingredients. Named after the signature Balinese kul-kul tower found at the 13th hole, it has superb panoramic vistas across the course and ocean.
The ground floor houses the Pro Shop and luxurious locker rooms, as well as the highly popular Spike Bar overlooking the 13th, where you can have a drink and light food on the terrace while soaking in the ambience and watching the golf go on.

With superb facilities available, the clubhouse is ideal for hosting events, celebrations and weddings and the talented kitchen team are highly skilled and adaptable.
With everything it has going for it, there is sure to be plenty going on; look out for Southeast Asia Pro-Am Par 3 Championship tournaments here in the future!
---
Bukit Pandawa Golf and Country Club
Jalan Gunung Payung No. 8, Banjar Panti Giri, Desa Kutuh, Kuta Selatan,
Bali 80361, Indonesia
T: (+62) 361 472 5999
E: marketing@bukitpandawagolf.com