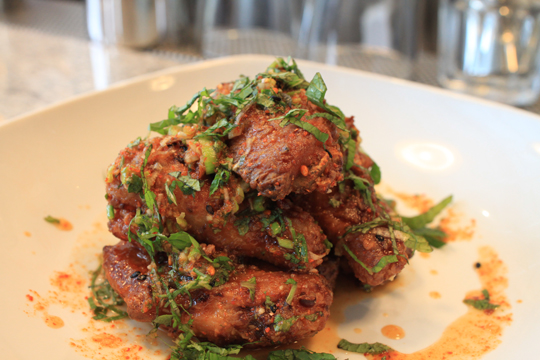 Located on the first floor of the newly minted La Maison Apartment, ABRACO Bistro & Bar welcomes visitors into its charming, tastefully decorated bistro. The sunlit space features resplendent views of nature, with full-length glass panels facing the luscious greenery of Taman Langsat and Taman Ayodya.

Groups of elegant wooden chairs and chic dining tables crowd the main dining space – a marvellous expanse of beautifully patterned wooden vinyl flooring. The vibe of the décor is industrial, with precise arrangements of pressed-brick columns, naked concrete ceilings, crisscrossing overhead pipes and bare hanging lamps.

Coffee aficionados are welcome to test their discerning palates at the bar. Offering hand-picked artisan coffee beans, ABRACO Bistro & Bar aims to highlight the best brews the archipelago has to offer. Adventurous caffeine addicts can settle themselves on one of the stylish bar stools and talk to one of ABRACO Bistro & Bar's friendly mixologists, who will be more than happy to concoct one of the restaurant's famed botanically inspired coffee brews. Aside from unique coffee, the bar is well-stocked with a variety of spirits, liquors and home-infused syrups, enough to satiate anyone with a craving for something stronger after a long productive week.

On to the heart of the restaurant – its menu of culinary offerings. With its pragmatic selections, from local favourites and western classics to exquisite fusion delights, there is something for everyone at ABRACO Bistro & Bar. For guests looking for comfort food, try the spaghetti aglio olio – an al dente serving of pasta tossed with a lovely sauce of extra virgin olive oil, garlic, chilli accompanied by succulent prawns and slices of fresh squid, garnished lightly with micro herbs. A selection of sharing plates is also available such as the togarashi chicken wings (crisp deep-fried chicken wok-tossed with an umami sweet, sour, spicy honey sauce) or the five cheese pizza (a bubbly melting goodness of Italian blue cheese, gorgonzola, emmental, mozzarella and Italian grana padano sits atop a layer of homemade tomato paste and a crisp hand-rolled pizza dough). Guests looking for authentic Indonesian cuisine won't be disappointed. Try the classic rawon buntut – chunks of tender oxtail lounge in a pool of delightfully aromatic black broth made of sautéed black nuts, garlic, shallots and candlenuts, served with fluffy white rice, emping and sambal terasi. Finish off your meal with the delightful desserts available such as the refreshing panna cotta accompanied with tart homemade berry compote or the dainty one-bite cupcake, complete with a flourish of vanilla cream and colourful sprinkles.

---
ABRACO Bistro & Bar
La Maison Building 1st Fl,
Jalan Barito II No. 56, Kebayoran Baru, Jakarta 12130, Indonesia
T: (+62) 21 8065 8181 / 811 878 8080
E: info@abraco.id
www.abraco.id