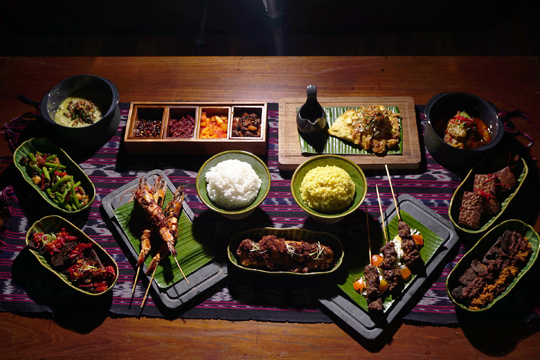 First-time visitors to The Pallas will be dazzled by the high vaulted ceilings of the restaurant. Sculpted pillars, curvaceous clean-cut lines and luxurious lime green walls adorn the elegant open space. In the day time, soft sunlight streams in through the gorgeous mosaic skylights and windows, lighting up the main dining space with a spectacle of multi-coloured hues while ravishing chandeliers glitter and shine over the outer dining sections. Handsome walnut flooring polished to a fine sheen adds warmth to the décor.
To one side of the dining space, stylish hazelnut couches nestle around wooden coffee tables, perfect for a spot of catch up and coffee. On the other side, tasteful leather-backed chairs and suave wood-iron dining tables welcome visitors to pull up a chair and order a hearty meal to share with friends and family.

Joining the wave of restaurants offering selections of cuisine from archipelago, The Pallas's food programme promises to take guests on a delicious journey savouring the best of Indonesian food. We highly recommended visitors try the lumpia Semarang – a perfectly fried spring roll filled with finely-sliced bamboo shoots, accompanied by a tantalising sweet and sour dip, or the rujak – a refreshing Indonesian fruit salad, tossed in a fragrant sweet and spicy sauce of palm sugar, salt and chilli.
The Rijstaffel Menu is a meal designed for sharing, catering for two, four, six or eight hungry individuals. The East Nusantara Risjsttafel Menu comes with two choices of rice: the heart-smart red rice or nasi tutug oncom, a generous spread of 10 dishes including favourites such as ayam rica (slow braised chicken with an aromatic sauce of chilli, lemongrass and basil) and konro bakar (beef ribs rubbed with blacknut, cinnamon, clove and roasted to tender perfection), as well as a unique sambal sampler that includes the mouth-watering dabu-dabu (traditional Manadonese salsa of tomato, chilli and shallots).

Likewise, the West Nusantara Rijstaffel Menu is a communal meal experience.  The mains include comfort foods such as ayam goreng lengkuas (fried chicken beautifully spiced with turmeric and galangal), udang komoh (succulent king prawn pieces skewered and grilled, served with a tantalising chilli paste) and tahu telor (a deep fried tofu and egg medley, accompanied by prawn paste and sweet soy sauce). The sambal bawang (onion, shallots, garlic chilli paste) and the sambal teri lado ijo (green chilli and anchovy sauce) offered in the sambal sampler are sure to heighten visitors' gastronomic experience. An à la carte option for the Rijstaffel Menu items is also available for discerning guests.
In addition to its sensational setting and sumptuous culinary offerings, The Pallas is equipped with high-tech visual equipment, top-of-the-line sound system and a stage, making it the perfect venue for all kinds of events. The divided areas offer versatile options, small intimate celebrations to huge company events or weddings, comfortably accommodating 2,500 people.
---
The Pallas
Fairgrounds 2nd Fl, SCBD Lot 14,
Jalan Jend. Sudirman Kav. 52-53, SCBD, Jakarta 12190, Indonesia
T: (+62) 21 5140 0101 / 5151 501
E: info@allin.co.id
www.allin.co.id