A Guest-Focused Leader
---
Swiss-born Hans Joerg Meier has had a life-long career in hospitality and is now busy running The Legian Seminyak, Bali and setting up the soon-to-open The Legian Sire, Lombok. Asia Dreams caught up with him amid his busy schedule to talk about his career and his plans.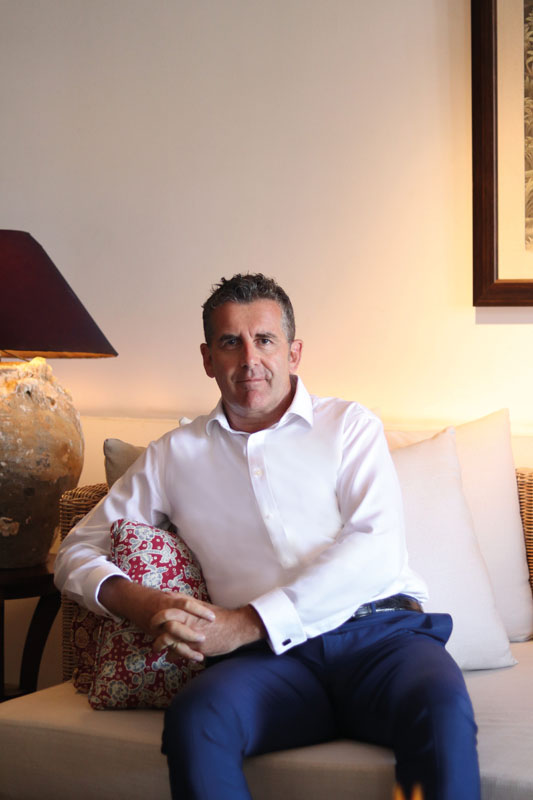 ---
Q: You are COO of Legian Hotel Management (LHM), what are your responsibilities?
A: I am one of three partners in LHM, the others are Irma Djohan, Partner – Managing Director and Ralf Ohletz Count von Plettenberg, Partner – Product and Development; I take responsibility for the day-to-day running of the business, as well as helping to run The Legian Seminyak, Bali.
Q: What made you decide to study hotel management?
A: My grandmother had a farmhouse from which she ran a small restaurant and as a child I used to help her, so I took my four-year apprenticeship working in hotels and restaurants and loved it from day one. I polished my French working in one of the top hotels in Geneva, then worked on a luxury Cunard round-the-world cruise, which is what opened my eyes to the wider world. That was when I first visited Asia and it captured my heart. After that, I went to hotel management school, but it was always my intention to work in Asia at some time.
Q: You have worked with some very prestigious brands throughout your career; was that a deliberate strategy?
A: It was really a coincidence to start with. While working, I met the general manager of The Peninsula Hong Kong and he offered me the opportunity to work there and it was there that I really learned what Asian hospitality is all about, it is so much more than just the techniques I had learned in Switzerland. I moved on to Raffles Singapore and that cemented my passion for great hotels that are all about the guests.
After some time, I moved back to Switzerland, but soon realised that my heart was now in Asia and took up a position with GHM, headed by Adrian Zecha and Hans Jenni, at The Datai Langkawi, later transferring to The Legian Bali as general manager. I loved the hotel design and the concept and as it had only been open four years, there were things to fine tune. We opened the spa and The Club at The Legian and I ended up being here for six years. After opening The Chedi Club, I was sent to The Setai in Miami, which was quite a shock after Asia. Eventually, we established an exchange programme for 24 Balinese staff to come and work at the hotel's huge pool area, which had been designed by Jaya Ibrahim, and this big group completely changed the ambience of the hotel.

Q: You've moved to LHM from COMO Hotels and Resorts where you oversaw 13 properties in four continents. This is a much smaller operation; what made you decide to take it on?
A: I have always loved and respected The Legian brand and the chance to join LHM as a partner/shareholder and build LHM alongside Irma Djohan and Ralf Ohletz Count von Plettenberg is the kind of opportunity that does not occur often in our industry. I had stayed in contact with the Djohan family after I left The Legian Seminyak, Bali back in 2006, as well as with Ralf Ohletz Count von Plettenberg, who was one of the founders of GHM, which had managed The Legian Seminyak, Bali for many years. I enjoy being involved in making key decisions with my partners, something I had missed in my previous job and the plans for LHM's development are very exciting. We believe there is great potential to grow the brand not just in Indonesia, but well beyond. It's a big responsibility to roll out the brand and to inspire people to visit other Legian hotels, as well as ensuring that we have everything from the buildings to the mindset and our renowned service firmly in place.
Q: What are your plans and goals for The Legian Seminyak, Bali and LHM?
A: Our first priority is to successfully open and establish The Legian Sire, Lombok and The Club at The Legian Sire, Lombok when the doors open in December. Soon after, we will start building The Legian Residences Sire, Lombok; 15 luxury lifestyle residences located next to the hotel. Further, we are close to announcing one or two additional LHM properties in Indonesia. We don't intend to only operate in Indonesia though, we have plans to bring the brand to other parts of Asia and beyond, but all in time.
Both The Legian Seminyak, Bali and The Club at The Legian Seminyak, Bali will undergo soft refurbishments over the next two years, retaining the style and characteristics as they were both handcrafted by the legendary Jaya Ibrahim and the style and atmosphere are very much appreciated by our patrons. We do, however, plan to upgrade the technology, amenities and some furniture pieces and fabrics, but all from within the Jaya Ibrahim collection. I would also like for The Legian Seminyak, Bali to become a sort of academy to grow new leaders who we can assign to future Legian hotels.
Q: What advice do you have for people looking to build a career in hospitality?
A: Hospitality is a commitment; you work through weekends, holidays and evenings. You have to enjoy the work and be passionate about it, and you really need to be a people person. If it is right for you, there are great opportunities to see the world and have a lot of fun while working.
---