Surrounded by pristine, crystal blue waters, Bora Bora has been voted the number one destination for honeymooners. World-renowned for its white sandy beaches and stunning turquoise lagoon, the French Polynesian island caters to romance and more.
Why Honeymoon Here
A brief flight from the islands of Tahiti, Bora Bora has a lagoon resembling an artist's palette of bright blues and greens, causing guests to fall in love at first sight. Romantics come from around the world to marvel at the lush tropical slopes and valleys, with Mount Otemanu standing proud in the background.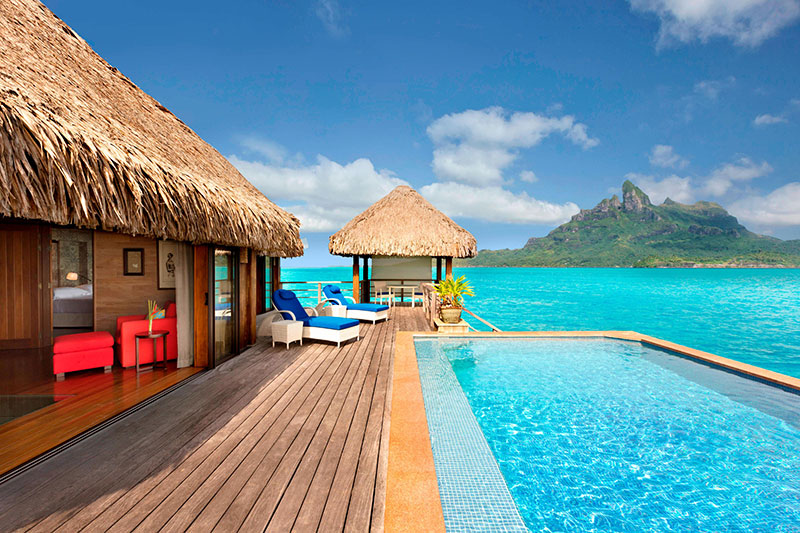 The sandy white beaches serve as a playground for tropical colourful fish, which animate the coral gardens as giant manta rays glide past. Easily a contender for the most beautiful island in the world, Bora Bora is the centre of the romantic universe.
What to Do
Bursting with diverse marine life, there is no limit to the underwater activities. Enjoy neon-lit lagoon waters with unending days of exploration through snorkelling and diving. At the right time of year, you can swim with humpback whales and dolphins, as well as other species that may wander by, including pilot whales, rough toothed dolphins, and many species of shark and rays.

Above the water, don't miss out on exploring the panorama by hiking or with a 4×4 accompanied by local guides. Bora Bora is also known for world-renowned local and international art, Tahitian pearls and precious wood handicrafts. For lovers, enjoy a relaxing couple massage at one of the signature Polynesian spas.
Where to Stay
Whether you are looking for accommodations that deliver an authentic experience, are budget-friendly or over-the-top, there is something for everyone, including overwater bungalows.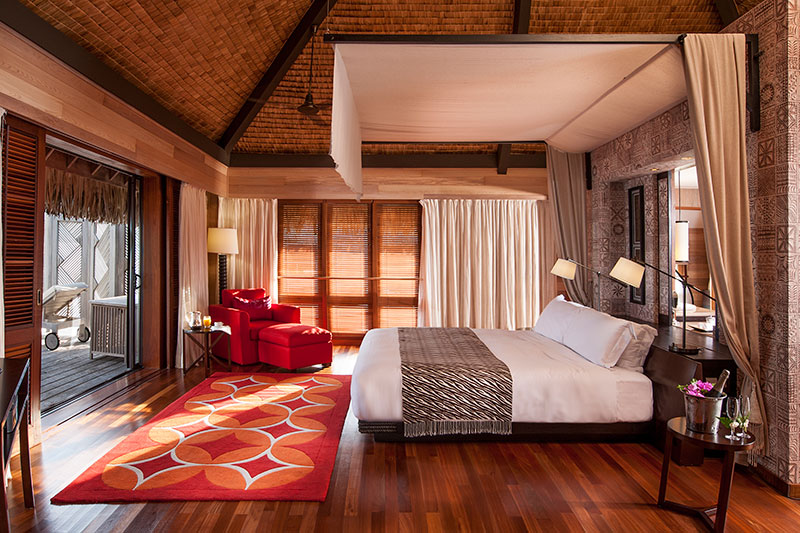 In Bora Bora, a world of luxury accommodation offers attractive honeymoon packages. One of Bora Bora's most popular honeymoon spots is Sofitel Bora Bora Private Island. Located on a lush islet, this resort offers the perfect balance between luxury, seclusion and privacy. For couples looking for a perfect high-end escape, The St. Regis Bora Bora Resort is a favourite with its gorgeous overwater bungalows and beach villas.
Romantic Dining
Blessed to be surrounded by rich marine life, the cuisine of Tahiti is world-renowned for fresh fish, exotic fruits and vegetables prepared with a Polynesian influence and a touch of French flair. Restaurants throughout Bora Bora will satisfy every discerning palate. Enjoy char-broiled seafood with your toes in the sand at the world-famous Bloody Mary's for a fun evening, Villa Mahana specialises in Mediterranean cuisine, while Bora Bora Yacht Club is the ultimate romantic spot, overlooking the lagoon from its wooden deck.