The Pursuit for Passion
---
The General Manager of The Seminyak Beach Resort & Spa Michael Luible started with a twist of plan before he made a break in the hospitality industry, which later took him all around Europe and Asia. He has never looked back and he's here to tell his story and hopes.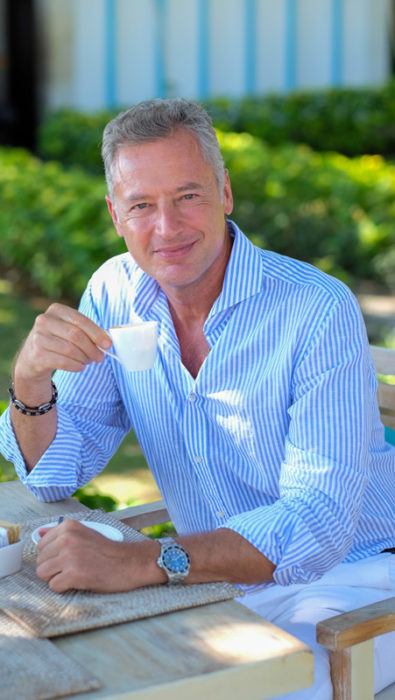 Q: Can you tell me how you first developed a passion to work in the hospitality industry?
A: I actually wanted to be a plastic surgeon. After I got my bachelor's degree in Munich, I rented a Vespa scooter and went to the south of France, to St. Tropez, Cannes, Nice, Monte Carlo, but I couldn't afford to stay at the nice hotels, so I always stayed on the beach, slept in a sleeping bag, bringing a camping cooker with a friend, for about a month and a half in the south of France, the most expensive place. But in order to go to the bathroom, I would dress up in a nice shirt, and go to a glamorous hotel like The Carlton in Cannes. And I always came in from a different entrance, because I didn't want the concierge to know I'd come from the beach.
From the bathroom I could hear the piano music from outside. It was a time when you were still allowed to smoke cigars in the lobby, there was a big staircase coming down to the lobby, Grace Kelly and all the actors used to come down because they had the Cannes Film Festival. I just loved the atmosphere, and I loved grand hotel lobbies. I thought, this is the place, this is my stage. I want to become a hotelier. From this moment I changed my entire life probably, and I think it was the right choice.

Q: How did you get your big break in the industry?
A: There was an apprenticeship, where you worked and once a week you had to go to school to learn the technical things. I did the apprenticeship for two years, and it opened the doors to multinational companies, and got me into Hilton International.
I worked for Hilton in Germany, and worked my way up from being a waiter to restaurant manager – it was very glamorous, I made a lot of tips, I bought my first Mercedes, and the last one actually [laugh].
Everything was perfect, but I thought it was too early for me to settle down, I wanted to travel, so I had a very important mentor, he was a GM at this hotel in Munich who said he would go to Paris. After two years in the Munich Hilton I said to my manager that I wanted to move to Paris and join the company there. He introduced me to the hotel's previous GM who moved to Paris, sent my CV for a trainee programme, but I thought sending a CV wasn't actually rocket-proof, so I took two days' leave and my car and drove from Munich to the French border, changed into a suit, shaved in the truck drivers' bathroom, and at 9am I was there. 'I'm Michael, we spoke yesterday, you said there was a job opportunity?', he was so impressed because I drove for 12 hours to come all the way there. He said he needed me to start immediately, so I went back to Munich, sold my car and moved to Paris.
To be young and living in Paris was very special, the problem is the people there don't speak many languages other than French. I couldn't go back to the restaurant, I had to work as a dishwasher, which became the biggest motivation for me to learn French. In the morning I studied French, in the evening I worked, sometimes at night I played the guitar to make some pocket money. It was a change from my time in Munich, but I think it was the right decision, because I think it's always good in our business to be motivated.

Q: What are the most memorable moments in your career?
A: Opening One&Only Reethi Rah Resort, to see this growing – considering all the challenges, like the tsunami, we had to start all over again, and seeing the first guests coming in – that was remarkable. I also once hosted Prince Albert of Monaco's birthday party on a remote sandbank, and there was nothing on it. We had to bring generators, a sound system and thousands of candles, there were all these super yachts coming, so you can imagine the who's who in the guest list there. To do this in the middle of nowhere was remarkable.

Q: In your opinion, what traits are needed to be a hotelier?
A: You have to be passionate in what you do, have perseverance, be able to make sacrifices and be able to move. You're like an ambassador, you have to travel, see different cultures in different countries. And you have to work hard. Being a general manager for a resort is different from being GM for a city hotel, in a resort you have to know your guests, you interact more with them because you're a host. It's also important to open your mind, broaden your horizon and be flexible.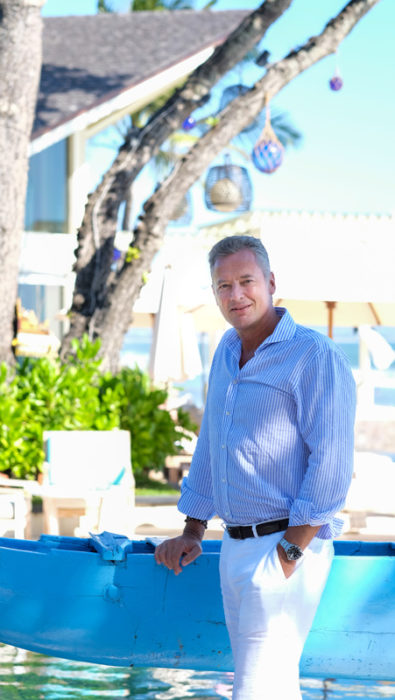 Q: For those who aren't familiar with Bali, can you explain more about The Seminyak Beach Resort & Spa?
A: Bali obviously has different destinations, you have the Nusa Dua experience, Ubud, Kuta and more. Before people come to Bali they need to know what kind of experience they need. If you want to see the best restaurants in town, then obviously Seminyak is a very hip place. We're located in this vibrant environment, but when you come into The Seminyak, it's like an oasis. We're lucky we have all this greenery. I'm fortunate because the owner is really visionary in terms of how we need to maintain the greenery to keep the resort vibe in the middle of a bustling urbanised environment. Look at that view, we have the best beach, we have spectacular sunsets, and if you want, you can go to the finest restaurants in Bali within five minutes. We have the villas, which are directly facing the beach and the ocean.

Q: What is the future for the Bali hospitality industry?
A: I hope some of the industry's voices are heard, because there are really good ones but it seems like nobody listens to them. The moratorium on new hotels, I think there's only so much load that Bali can take. With all the added rooms, you need more tourists to fill them, and I fear Bali might change from a quality destination to a quantity-driven one, and lose its charm. Indonesia has 17,000 islands, beautiful islands, and I hope the other destinations will be developed to distribute the tourists coming in to Indonesia. Lots of people come to Bali for the culture, the people, and these days tourists don't get to those cultural aspects because of the traffic jams. Driving from the airport all through the highway, you don't want to see billboards that sell everything else but Bali.
---
The Seminyak Beach Resort & Spa
Jalan Kayu Aya, Seminyak Beach
Bali 80361, Indonesia
T: (+62) 361730814