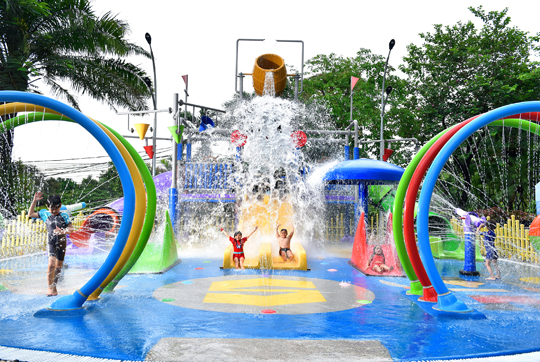 Shangri-La Hotel, Jakarta is a kid-friendly destination popular amongst holiday-goers and those looking for a dazzling retreat.
With the Ramadan holidays on the near horizon, parents are pencilling in holiday plans for the family. Always eager to cater to its younger clientele, Shangri-La Hotel, Jakarta offers a variety of fun activities and amenities for children. Stunningly located in the heart of Jakarta city, Shangri-La Hotel, Jakarta is the perfect home base for families looking to explore the city's rich heritage and tourist attractions.
Shangri-La Hotel, Jakarta's world class amenities and charming attentive service make it one of the most popular hotels, with repeat guests making up a huge part of the clientele. With 662 luxuriously furnished rooms, the comprehensive Health Club and Spa, five stunning meeting and celebration venues and seven award-winning dining venues, there is something for the whole family in Shangri-La Hotel, Jakarta.

An exciting new addition is the children's aquatic playground. Located in the hotel's sprawling pool garden area, the aquatic playground features beautiful water sprays, fountains and colourful splash buckets and slides. Kids are welcome to roam around the state-of-the-art aquatic playground, where they can spend an afternoon splashing around and going on aquatic adventures with new-found friends. With rubber-padded floor installed for the aquatic playground, parents can rest assured on their children's safety.
Next to the aquatic playground, a line of lounge chairs is available for children taking a break from the afternoon activities. A dedicated shower area is also available in the aquatic playground area for kids to take a quick rinse and towelling before returning to the hotel.

Open from 8AM to 6PM, kids aged 2 to 12 are welcome to explore the aquatic playground with adult supervision. Parents will be pleased to know that Shangri-La Hotel, Jakarta will be providing complimentary access to the aquatic playground for two children in The Great City Escape room package, so they can sit back and enjoy a relaxing weekend while their children amuse themselves. Visitors looking to spend the afternoon at the aquatic playground can also purchase access at the hotel's Health Club. Weekend brunch goers at SATOO, Rosso or Jia are also entitled to a special rate for their children. For guests looking to throw a unique water-themed party for their little ones, the aquatic playground is available for private bookings, perfect for birthday parties, play dates or other private celebrations.