Your little ones will have a whale of a time at The Ritz-Carlton Jakarta, Pacific Place with customised guided tours.
The Ritz-Carlton Jakarta, Pacific Place believes in providing an unforgettable stay experience for its guests' children. Dedicated to educating young minds, The Ritz-Carlton Jakarta, Pacific Place encourages its little guests to explore their surroundings as a part of its Ritz Kids program.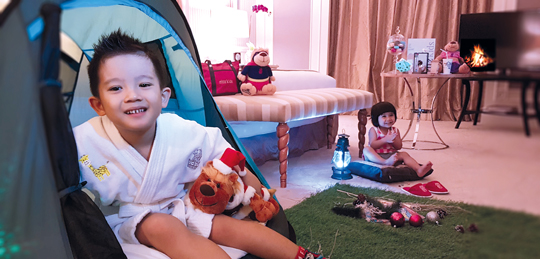 The Ritz-Carlton Jakarta, Pacific Place's dedicated concierge is more than happy to arrange day excursions to delight guests and their children with tours of Jakarta's historical and cultural attractions. For your artistically inclined little one, the hotel recommends a tour of Jakarta's Fine Arts and Ceramic Museum, where they can marvel over historical sculptures, hand-painted wooden totems and hand-painted batik fabrics. Another popular attraction is Ancol Dream Land. Located on Jakarta's coast, the sprawling recreational facility houses the amusement park Fantasyland, where children can spend a thrilling afternoon taking entertaining rides and partaking in the amusement park's activities.

As part of the Ritz Kids program, the hotel introduces unique in-room camping adventures with complimentary tent, compass, lantern, flashlight, drinking bottle and a plush lion soft toy. The new Star Gaze experience allows kids to marvel at the starry night above their tents as if they are outdoors, while enjoying scrumptious cookies and drinks. Each child will receive a lion backpack and a passport book with a map of the hotel for them to traverse through, collecting stamps for exciting gifts.
---
The Ritz-Carlton Jakarta, Pacific Place
Sudirman Central Business District (SCBD)
Jalan Jenderal Sudirman Kav. 52-53
Jakarta 12190 Indonesia
T: (+62) 2125501888
E: rc.jktrt.leads@ritzcarlton.com