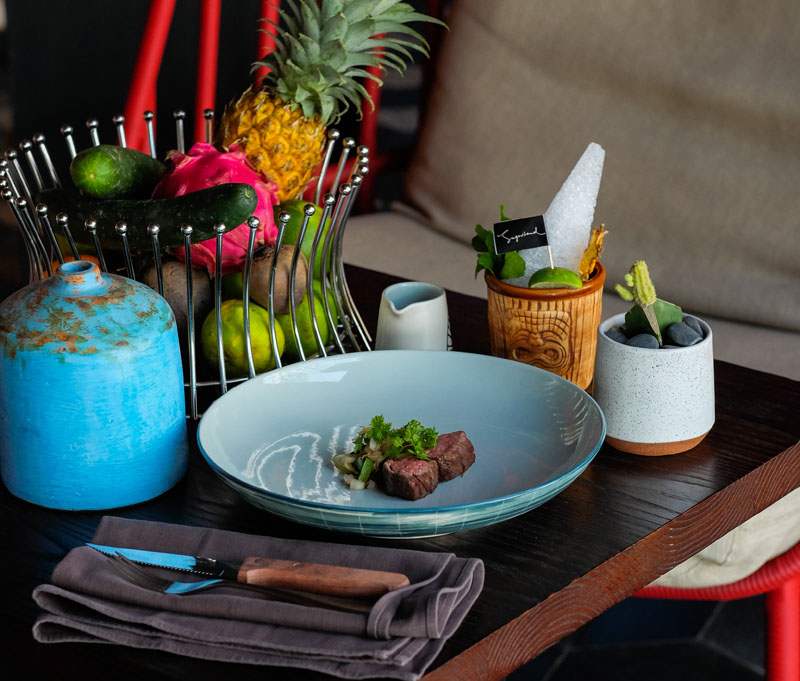 A one-stop dining destination boasting uniquely luscious food, creative cocktails, unforgettable views and ambience and curated music.
When vacationing in Bali, most visitors seek a dining destination that basically has it all. First and foremost, the food has to taste good, but the restaurant needs to be aesthetically appealing too. Oh, and let's not forget the beach views! It's easier to answer this challenge now that SugarSand is here.
In a nutshell, SugarSand is a beachside bar and restaurant, but in between, it's so much more than that. Stepping into the venue, guests can take in the sleek and contemporary design adorned with bold-coloured artworks framing the refreshing swimming pool, just before the buzzing Seminyak Beach. However, what they might not know is that the exterior is inspired by a Balinese jukung fishing boat, and it shows SugarSand's intention to highlight the connection with the surrounding land and sea in the overall concept of the place.
Executive Chef Nic Philip is known for his bold and cheeky approach to cuisine, ensuring fresh takes on classic or signature dishes. Reinventing Nikkei cuisine and incorporating Japanese touches in a creative manner, the SugarSand team always makes sure to incorporate local ingredients sourced from the land and the sea to guarantee freshness and quality.
SugarSand offers quite a selection that can cater to diners from day swimmers who are looking for light and quick bites to savour in between, to evening patrons who want something hearty and mind-blowing. From sushi rolls, to a grill selection and wok dishes, it has something for everyone, and you can be sure each is done well.

If you can't make up your mind and have time to kill, opt for the Feed Me Menu. The menu comes in four- or six-course options – comprising SugarSand's signatures, but we say go for the six-course one and take up the cocktail pairing offer too.
The tasting journey starts with the restaurant's most popular signature dish, tuna Nikkei ceviche. The combination of raw tuna, burnt onion tosazu and deep-fried avocado results in a fun and yet refined experience for the palate. The dish is really simple, with only a few elements, but it offers layers of wonderful flavours.
Next up is the swordfish tataki, served with pineapple slices that have been compressed with all the juice and wasabi greens. The fish is grilled briefly and then put in cold water, resulting in fascinating colouring on the outside and refreshingly raw on the inside, and then balanced with the zesty kick from the pineapple ponzu and the pungent note from the wasabi greens. The char-grilled chicken tsukune plays the role of comfort food in the selection. The Japanese favourite is served on a slice of white bread, so that diners can eat it sandwich-style. The chicken is juicy and served with Japanese mustard mayo and pickled cucumber.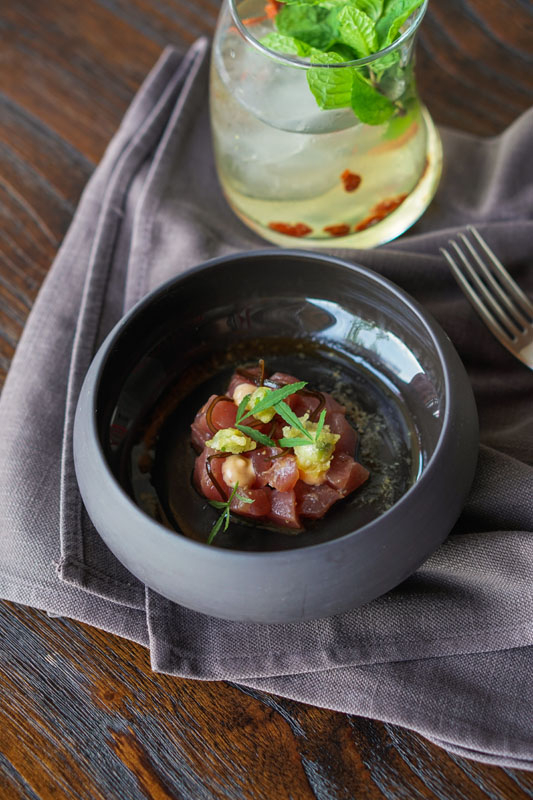 The pièce de résistance on the Feed Me menu is the river prawn that's been charcoal-grilled with butter in its shell, giving it the same juicy quality as if it had been steamed. Topped with kimchi pear and grated, dried, smoked and cured cod, the dish is truly a parade of flavours, showcasing the best ingredients.
There are still two dishes to go in the menu, but they are for you to find out. Add to that the innovative drinks programme, courtesy of master mixologist Sufian Mahmoud, and you'll get a dining and drinking experience to remember. Sufian is known and admired for his knack of reimagining cocktails by incorporating history and cultures and using visionary ingredients. In addition, the drinks list also features Japanese-inspired cocktails, sake and sochu, and please don't miss out on its elaborate list of slow-cooked G&Ts!
---
SugarSand
Jalan Camplung Tanduk No. 10
Seminyak, Bali 80361, Indonesia
T: (+62) 3612099999