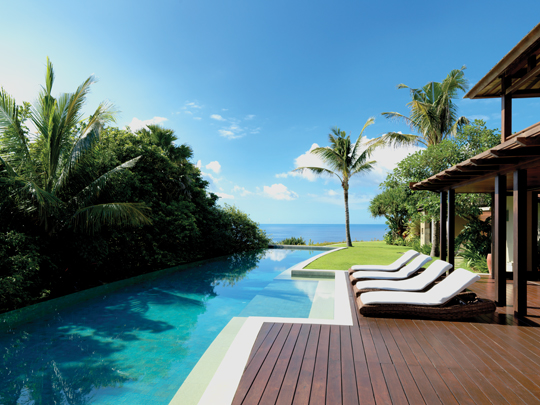 The Ungasan Clifftop Resort is blessed by an unparalleled location that boasts nothing less than a heavenly vista visible against the elevated stance of stunning cliff top. The resort, in turn, blesses lavish travellers with exclusive accommodation, tailored service and an unforgettable vacation that you won't be able to stop talking about.
Let's start with the most important thing first: the place where you lay your head at night. The Ungasan Clifftop Resort offers a selection of one-bedroom villas and luxury villas to choose of. The one-bedroom villas, Villa Chintamani and Villa Nora, each perfectly carries a sense of privacy, while also giving access to the wider resort facilities, like the famed Sundays Beach Club. You can kick back and relax with other guests, but with 24-hour room service, you can just retreat to the comfort and privacy of your own villa and let the responsive staff be at your beck and call.

Even more impressive are the luxury villas – Villa Ambar, Villa Pawana, Villa Tamarama, Villa Santai Sorga and Villa Jamadara. Each of these exquisitely named villas stands on a 30-m high cliff top facing the ocean – ensuring a panoramic backyard, and is set on 2,500sq.m. of lush manicured garden, making guests feel like they're in their own private, extensive nirvana. The luxury villa selection is the long-awaited answer for those who travel with a big family or friends, because each luxury villa comes with five bedrooms to accommodate 10 people. Each villa also has its own unique characteristics, providing options for you to choose something more to your liking. Villa Tamarama, for example, has a colonial style often found in the Caribbean and the Hamptons, while Villa Santai Sorga is hacienda-inspired.

Aiming to provide guests with a top-notch holiday experience, The Ungasan Clifftop Resort has partnered with respected Australian chef, James Viles, to make sure the kitchen team brings its A-game. With a wide selection of world-class fare created fresh, local ingredients, guests are guaranteed a satisfying culinary experience – be it in the main dining room, the privacy of the villa, or at Sundays Beach Club – which is a must-visit destination for tropical leisure.

To put the cherry on top of this paradise on earth, The Ungasan Clifftop Resort has Vela Spa, gym and tennis court – in case you decide to get off the bed and take a short stroll around. The resort also provides airport transfers and a helipad for those who travel in style. On top of it all, the resort takes pride in its unmatched service that allows guests to have the time of their lives. At The Ungasan Clifftop Resort, luxury is whatever guests want it to be, and that's the most perfect way to illustrate the ideal picture.
---
The Ungasan Clifftop Resort
Jalan Pantai Selatan Gau, Ungasan
Bali 80362, Indonesia
T: (+62) 811 942 1110
E: reservations@theungasan.com