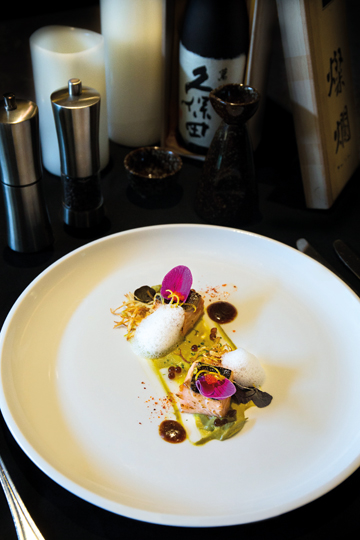 Tucked away in the opulent JW Marriott Hotel Surabaya, Vis à Vis restaurant serves charming French classics in a stunning setting to eager diners.
---
Open only for dinner from 6PM to 11PM with a maximum seating capacity of 40 people, bookings are essential for the city's ultra-exclusive French restaurant. Dining at Vis à Vis is an intimate affair, with dedicated personalised service and world-class French cuisine. Visitors to Vis à Vis restaurant are greeted by a pair of elegant glass and wooden doors, painted a lovely shade of brushed golden. Pushing open the swing doors, an open dining space invites diners with a sea of pristine white linen tablecloths, complete with intricate silverware and wine glasses, accompanied by groups of navy blue upholstered dining chairs. Stretches of floor-to-ceiling windows let a warm golden glow into the dining space come the turn of the evening.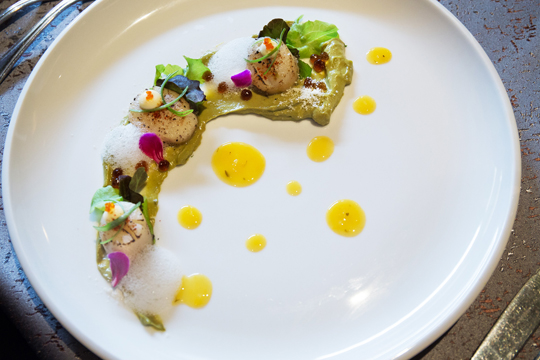 The restaurant's walls are painted in a handsome shade of matching blue, with framed portraits promising endless summers in the idyllic French countryside.  A plush blue and cream carpet covers the entire dining area. With all dark polished woods, classical hanging lamps and intricate touches of steel accoutrements, the décor is decidedly vintage. A regal bar faces the main dining area, resplendent in its richly stocked wine racks, complete with a dazzling slab of black marble, polished to a fine sheen. Visitors are never disappointed with the bar's selection, boasting a curated selection of international wines from Australian to French labels, premium limited edition spirits and artisan small-batch liquors.

The food programme is headed by JW Marriott's prodigious culinary whiz Chef Emmy Ester, who aims to delight diners with contemporary French culinary delights. For starters, the classic foie gras comes highly recommended. The lightly seared foie gras is prepared to unctuous perfection, letting diners enjoy the natural flavours of the exquisite delicacy. First-time visitors are urged to order the lamb rack for mains. Marinated with sea salt, freshly ground pepper, olive oil, garlic and rosemary before being grilled to perfection, the tender and luscious lamb is sure to keep diners coming back for more. For steak lovers, try the sirloin steak – a perfectly sizzling prime steak that would be the pride of any steak house. Diners are encouraged to accompany their hearty meal with a beautiful bottle of Cabernet Merlot or Pinot Noir. For a sweet end to an amazing dinner, order the house-made classic crème brûlée – a sinful dessert of rich custard topped with decadent fresh caramel.
---
Beef Tenderloin à la Surabaya Rawon (French X Javanese)

Ingredients:
120g beef tenderloin
50g rawon paste
1/2 salted egg yolk
25g beansprouts
25g sweet potato
5g mixed lettuce
10g sambal pearl
5g fresh leek
20ml legen (East Javan signature drink)
Rawon paste:
5 kluwek (black nut)
3 shallot
3 garlic
1 inch ginger
1 inch turmeric
2 candlenut
5g coriander seed
2 lime leaves
1 stem of lemon grass
METHOD:
Marinate the beef with salt, black pepper and garlic, then pan-sear in a hot pan. Put in the oven until cooked to your preference.
To make the rawon sauce, heat some water in a small pan, mix in the rawon paste, stir until blended, then season with salt and white or black pepper. Finish with a hint of legen water to finalise.
---
Vis À Vis
JW Marriott Surabaya
Jalan Embong Malang No. 85-89,
East Java 60261, Indonesia
T: (+62) 31 5458888