Malaysian food aficionados finally have a culinary hotspot brimming with authentic flavours – Mamak Bali has opened in Seminyak.
As international travel has become more and more common and people experience different cultures and cuisines, the demand for a wide variety of food from around the world has risen.
Finding familiar aromas, tastes and textures of dishes discovered during holidays evokes happy memories, with each country having its own iconic dishes that cause that sense of longing: fish and chips from England, nasi Padang or meatballs from Indonesia and roti, curry and satay from Malaysia.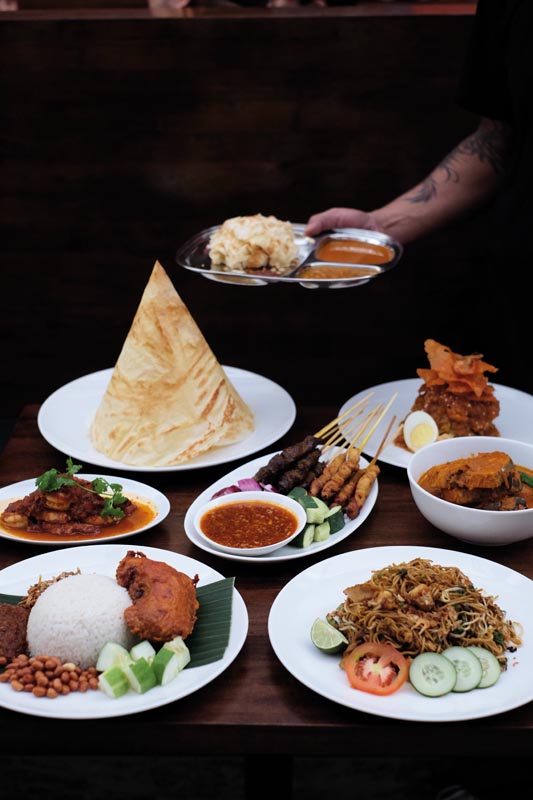 It was this longing for iconic Malaysian food that caused the three friends behind Mamak Restaurant to take the first step that has ultimately resulted in Mamak Bali's opening.
Living in Sydney, Australia, Alan, Clement and Julian missed the freshly made roti canai, frothy teh tarik and smoky satay of their childhoods in Kuala Lumpur, so they opened a market stall in Sydney's Chinatown Night Market on Friday nights and ended up with a cult following for their authentic, bold traditional Malaysian flavours.
The market stall soon became a restaurant, then a second opened, then a third, this time in Melbourne. Now Mamak Restaurant has opened its first international branch in Seminyak, one of Bali's culinary destinations, so here too we can enjoy some of Malaysia's favourite dishes.
Visible from both the street and inside the cosy restaurant, the Mamak Bali team has roti canai down to a fine art, with the dough being theatrically spun and stretched to make the perfectly cooked, fluffy roti canai, so light it is literally a ball. Served traditionally with a side of sambal and two kinds of curry sauce, it is a simple delight that lingers in the memory.
In addition to the fluffy, plain roti are other savoury classics, such as egg roti, planta roti and chicken or lamb murtabak, as well as sweet versions served with ice cream like banana roti and the delicate roti tisu – a cone of paper thin, super crispy roti encrusted with sugar.
Needless to say, the Mamak team hasn't stopped at roti; they also serve Malay-style satay, curries brimming with tender meat and, among others, the superb ayam berempah – chicken thigh pieces stir-fried in spices for a deliciously crispy skin and juicy meat.

The ubiquitous nasi lemak also makes an appearance at Mamak Bali, with its richly fragrant coconut rice served with sambal, peanuts, crispy anchovies and hard-boiled egg, along with options of various curries or fried chicken.
Drinks range from ice-cold beer to the classic hot or cold teh tarik, cham and other typical Malaysian drinks, including the dessert-style ais kacang and cendol.
This 70-seat restaurant has only been open a short time, but it is already proving very popular having brought its renowned tradition of genuine flavours with smart and friendly service to Indonesia's Island of the Gods.
---
Mamak Bali
Jalan Kaya Aya No. 4b, Seminyak, Bali 80361, Indonesia
T: (+62) 3619345934