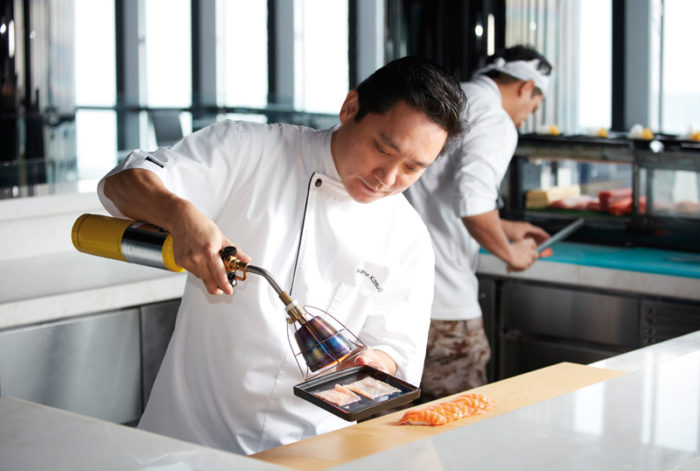 On 20th July, The Westin Jakarta introduced Henshin, the highest rooftop bar and dining destination in Jakarta. Helmed by Chef Hajime Kasuga, Henshin offers authentic Japanese Peruvian food. Occupying the top three floors of the hotel, Henshin offers an unforgettable ultra luxurious dining experience for Jakarta's discerning gourmands, as well as a sleek and trendy lounge and bar experience.
Upon reaching the 67th floor, visitors will marvel at the hand-crafted tiles and the gorgeous natural stone that make up the bar. The main bar area's ceiling is made up of lattices of modernistic tempered glass, which contrast with the beautifully polished walnut flooring. Tastefully furnished with light-cream couches, tan stretch sofas and understated coffee tables, the furnishing exudes warmth and comfort. The lounge opens up into an open-air alfresco area, complete with an outdoor bar manned by Henshin's skilled mixologists. Visitors are encouraged to admire Jakarta's stunning skyline from the city's highest rooftop bar with one of Henshin's delicious crafted cocktails. For those feeling a little peckish, Henshin's ceviches, or tiraditos, come highly recommended.

Henshin's food programme is headed by Chef Hajime Kasuga, an esteemed third-generation Nikkei who comes from Peru. With 25 years of experience under his belt, visitors to Henshin can enjoy tantalising Nikkei cuisine made from the finest ingredients. The 68th and 69th floor of Henshin offer guests an open-kitchen concept, encouraging visitors to have a friendly chat with Henshin's chefs who are always happy to introduce guests to classic Nikkei delights. The signature Henshin Roll is a must-try item, a delightful combination of spicy crab meat, unagi, avocado, fried shrimp and foie gras, served with a unique house-made sweet and indonikkei sambal. Private dining spaces are also available for bookings, with two private rooms accommodating 12 guests and 20 guests respectively situated on the 69th floor.
---
Henshin Jakarta
The Westin Jakarta, Level 67, 68, 69,
Jalan HR. Rasuna Said Kav C-22
T: (+62) 878 0002 8008