The Genial Host
Presiding over Mandarin Oriental, Jakarta is Andrew Abram, a Scot who discovered a love of hospitality by chance and who leads from the front, ensuring that warmth, graciousness and respect are an integral part of the hotel for both his guests and colleagues. Asia Dreams was delighted to have the opportunity to sit down with him to talk about his career.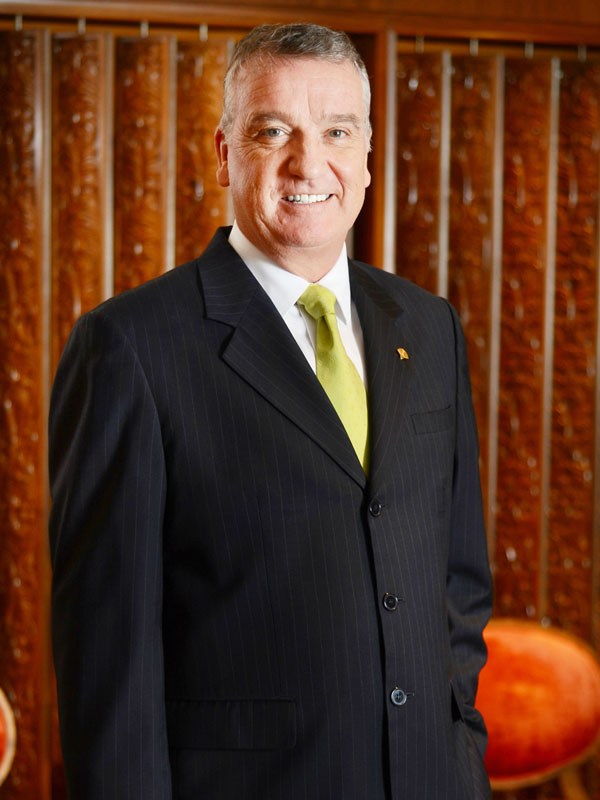 Q: What made you choose hospitality as a career?
A: Actually I am an engineer by trade having started my work life in a Glasgow shipyard; I found hospitality by accident through family friends who ran their own hotel on the West Coast of Scotland. It was an idyllic location and by helping out in the kitchen, bar and restaurant I was accommodated in one of the hotel bedrooms, a great way to spend the summer. I caught the bug, said farewell to shipbuilding and hello to hotel keeping.
Q: What was it that you enjoyed so much?
A: It's still the same as today – interacting with the guests and working with wonderful colleagues. It's also a great industry to travel the world and experience new cultures; in my first 10 years, with InterContinental, I worked in seven hotels on three continents. Hospitality is a way of life though, if you think of it as work, then it is very hard.
Q: Was there a time that was especially challenging?
A: Sales and marketing is my background and passion, and I took on the job as Head of Marketing with Jumeirah in Dubai when it was still a new brand with no physical entities or brand recognition. It was the most fantastic sales and marketing job in the world. We opened Jumeirah Beach, followed by Wild Wadi and then Burj Al Arab and Emirates Towers, which are still hugely impressive and creative properties even today.
Q: What do you find most satisfying and most frustrating about hotel work?
A: The most satisfying is the people you work with and the variety of guests you look after. Every day is different. It's exciting in an extremely competitive market like Jakarta. You have to be innovative and focused, not only with the customers but also with our colleagues. Great hospitality is about being dedicated to our customers, being charming, offering friendliness and warmth.
Frustrations are gifts or opportunities and, like any hotelier, consistency in service delivery anywhere in the world remains a constant focus as does how to best differentiate what we offer in terms of service and product. Also how to remain relevant to the ever-changing needs and expectations of our customers. This is exciting and keeps us on our toes, however I am also a firm believer that the sound innkeeping practices of caring for your customer and colleagues while offering great hospitality never die.

Q: This is your second time at Mandarin Oriental, Jakarta; what made you decide to come back?
A: Every general manager adds their own little piece to the tapestry of a hotel, I'm number 11 and 14 here in Jakarta! My first time was the eight years overseeing the closing, complete renovation and relaunching of the hotel, so it was like three different, yet very intense jobs. This meant that I invested a lot of myself into this hotel, so I was delighted to have the opportunity to come back.
Q: What are you most proud of here and what are your plans for the hotel going forward?
A: We have a superb team at the hotel and in terms of Mandarin Oriental Hotel Group quality measurements, the Jakarta property performs extremely well, surely a testament to the wonderful sense of hospitality offered by our Indonesian colleagues. In our recruitment we look for energy, disposition and initiative from our applicants and 10 years on we still have over 35 percent of the original colleagues we hired at reopening. We also take colleague development seriously and last year we successfully transferred a number of both senior and junior staff to Mandarin Oriental properties in Asia and the Middle East. As we speak we have another Indonesian team member heading to the Caribbean for a work placement!
It is now 10 years since the hotel reopened and while our owners continue to reinvest we are also looking at a number of new and substantial projects over the next 36 months ensuring the hotel remains attractive and true to the Mandarin Oriental brand.
Q: Outside of the hotel, what do you do to relax?
A: I have a young family and love spending time with them, and fortunately my wife shares my love of golf.
---